A stark contrast as Loren Klein wins his second World Series of Poker bracelet in successive years, and Ben Maya wins his first after playing in only two events all year.
For some, the thought of winning a World Series of Poker (WSOP) bracelet is the pinnacle of their career. For others, it feels slightly different.
"I'm just trying to feed my family," said a no frills Loren Klein after winning his second bracelet in Event #41: $1,500 Pot-Limit Omaha.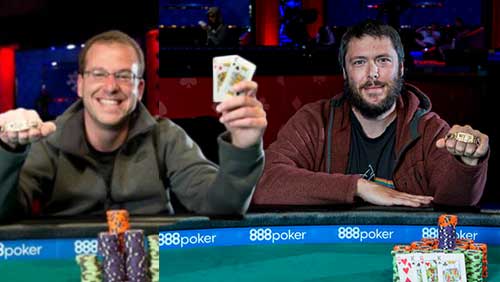 The man with the name that wouldn't look out of place on the side of an expensive bottle of aftershave began smelling of roses, after dominating the 870 player field from Day 2 onwards, where he finished as the chip leader.
Klein, who has been playing poker for the past decade, kept the ivy like tendrils of the opposition from his gold, by putting his foot down on the pedal hard in the closing stages of the event, eliminating the final three players in under 20-minutes.
The 870 entrant field was a 12% increase on last year's effort. Klein, who prefers to keep out of the limelight, is going about it the wrong way. Last year he won his first gold bracelet in a $1,500 Mixed No-Limit Hold'em/Pot Limit Omaha event for $241,427 and lost out to Brandon Shack-Harris in the heads-up phase of the $10,000 Pot-Limit Omaha 8-Handed Championship.
The man knows how to handle four cards, that's for sure.
Final Table
1. Loren Klein – $231,483
2. Chun Law – $143,017
3. Danny Wong – $100,360
4. Jeff Williams – $71,423
5. Jordan Spurling – $51,559
6. Oskar Silow – $37,762
7. Timothy Batow – $28,066
8. Sergej Barbarez – $21,172
9. Benjaming Juhasz – $16,215
Other outstanding players who stretched out this competition further than a giraffe's neck were the six-time bracelet winner T.J.Cloutier (10th), the former WSOP Player of the Year Jeff Lisandro (16th), and WSOP bracelet winner Shankar Pillai (18th).
Ben Maya Wins Event #43: $1,500 No-Limit Hold'em Shootout
From a multiple bracelet winner who prefers to stay out of the camera's eye, to a complete newbie who is loving his fifteen minutes of fame.
Ben Maya managed to take down Event #43: $1,500 No-Limit Hold'em Shootout despite only playing two tournaments all year.
When Maya isn't creating the best live MTT ROI in the biz, he works in Real Estate in Israel. His victory is Israel's fourth bracelet, a major feat when you consider the size of the nation, and the lack of poker within the country's borders.
Maya defeated 1,025 players, a smidgen less than the 1,050 that attended last year. The 34-year old overcame a final table that included the former WSOP bracelet winner, Paul Michaelis, and the man who writes more books than J.K.Rowling, Jonathan Little.
Maya entered the heads-up phase against the Belgian Thomas Boivin with a 4.2m v 3.4m advantage, after eliminating the impressive Tim West in third. Boivin never truly made a dent in Maya's stack, and the final hand was a cooler with the AT of Boivin failing to find the goods against the pocket kings of the Israeli in their last all-in encounter.
Final Table Results
1. Ben Maya – $257,764
2. Thomas Boivin – $159,273
3. Tim West – $115,297
4. Phachara Wongwichit – $84,453
5. Alex Rocha – $62,602
6. Steve Foutty – $46,969
7. Joe Cook – $35,673
8. Paul Michaelis – $27,431
9. Jonathan Little – $21,360
10. Matas Dilpsas – $16,844
Some of the top talent that managed to get close to the gold without seeing it were the UK ping-pong champion Alex Goulder, the best poker player in the Deadman family Shola Akindele-Deadman, and the best online MTT player in the universe, Chris Moorman.