The sophisticated and very successfully elaborated gaming system on the VLT tablets– MLT one™ platform, has became the most discussed project at this year's Belgrade exhibition grounds.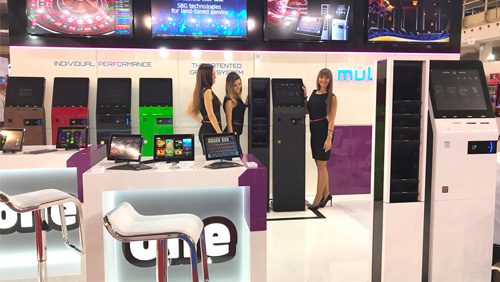 The MLT exposition has significantly differed from the others …. After a long period of time a product has arrived, which fits into the unchanged operation concept of dozens of years of land-based gaming.
A fresh impression from the entire Multiloteri exposition has been tastefully complemented by the colour and scale of the MLT one™ model lines, which together with the gaming bars in the shape of the product logo, created a harmonic whole.
Not only workshop processing of all the MLT one™ components gathered admiration, but especially the sophistication of the entire gaming system, crowned with the VLT tablets location functionality, which has been reliably capable to detect the state, motion and position of all the MLT one™  tablets in the area of exhibition grounds.
The gaming content with the Slot games and splendid interactive roulette in Full HD quality lacks only the notified exchange rate bets, for which Multiloteri is still seeking partners.
According to the entire MLT expositions conception the VLT tablets one™is that, its potential lies not only on low operation costs and minimum installation space, but most of all on the philosophy of the entire project – that is comfort, elegance and discretion during gaming.
The MLT one™ project vision is for sure a timeless idea in land-based gaming and does not leave anybody any doubts that the Multiloteri.cz points, with its product, at the top of gaming industry.
Multiloteri Ltd. Czech Republic
e-mail: [email protected]
Comments