Partypoker ambassador, Patrick Leonard, takes a time out from his exploits in the India Poker Sports League to answer some questions about the new Diamond Club VIP program.
The incredible marketing and branding expert Bernadette Jiwa sent me another nugget in the cyber mail, today.
The headline was Ten Things Your Competitor Doesn't Do.
I was about to get stuck into it like a stick in wet sand when I received another sheaf of paper from cyberspace, this time from partypoker ambassador Patrick Leonard, who had this to say about the new Diamond Club VIP program.
When you arrived at partypoker, why was the creation of the Diamond Club important to you?
"The Diamond Club wasn't necessarily important to me," said Leonard. "It hadn't even been thought of, to be honest. When I came to partypoker, I wanted to make sure one thing always happened. In every decision, both the professional and recreational players were thought about. Obviously, as a high-stakes poker player, I can relate from the player's side, but I worked previously as a poker consultant so I "get" the other side too.

"Pros don't like complicated Rakeback systems; they like to be able to just cash-in regularly as it helps pay bills or treat the girlfriend. For amateur players who keep smaller bankrolls on the site, it allows them to have "regular top ups".

"I remember being a recreational player and I loved Full Tilt and chose to play there instead of PokerStars because I loved getting that weekly Rakeback payment. I would be so excited all week to get the Z Friday payment and then would blow through it at the weekend and often deposit afterwards too. Pros love it; amateurs love it."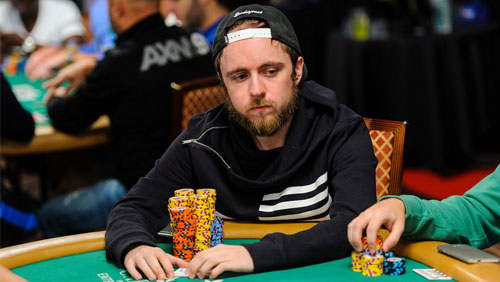 The move towards a Rakeback system seems counter to what everyone else is currently doing, what has everyone else missed?
"The industry started hiring people from outside of poker to make decisions on too many things. Loyalty systems, rake structures, tournament structures, etc. There is a very important market that "non-poker people"'don't understand – it's the "Rec-reg."

"This player is perhaps winning, perhaps losing. But loves playing poker, loves good structures and loves to play on a site that he trusts. A lot of these players are acquired from the live arena. After the £6m GTD event in Nottingham, not only was there now a lot of new players with money in their partypoker account but a lot of these guys also will go back to their local card rooms in Newcastle, Bristol and Cardiff and tell people about partypoker. They will play with their new bankroll on our amazing iPhone app, and people will ask questions.

"The "rec-reg" helps games run, helps prize pools grow, not only by themselves playing but by word of mouth marketing, which in poker is the most important thing when trying to acquire this set of players. Sure, traditionally a Rakeback system isn't what poker sites want to do. One of our biggest competitors gave me an average of 1% Rakeback, and I've played on their site every week for the last three years. Fuck that. If somebody wants to call partypoker their home, then we want to give back to them, and we want to do it in a way they understand and like."

How can partypoker ensure the people who start and remain in the games are rewarded, and the bum hunters aren't?

"This is the most important part of the Diamond VIP Club. It's bespoke. If you want to be involved, you have to get an invitation from myself or one of my colleagues; all deals are absolutely bespoke.

"Previously the guy that would make the most money would be the guy with the best script or the best mental game/game selection. We want to move the goalposts a little bit. Our tournaments, are in my opinion, the best out there right now. For SNGs and Cash Games, we are trying to make a big effort to get to similar standards. For this to happen, we need people who will be there around the clock playing each other and building the site up.

"Somebody who watches their Bitcoin balances go up and down all day and sits in for 2-3 minutes when a weak player comes to lose their min-cash from a tournament is the last person in the world I want to reward. They are not poker players to me. They don't follow the pure poker message we want to bring back to poker, and they will not be rewarded financially by us as a site compared to the guy who supports the site day in day out."

How doable is it to accrue $100,000 in a year?
"It's doable for sure. We make fair deals with all the guys too. If there is for whatever reason a lack of liquidity or perhaps they have some extreme personal issues, they don't need to be up till 23:59 on New Year's Eve, they can have a drink with their family and finish it off at a slightly later date."
How does this differ from Supernova Elite?
"The big different to SNE is obviously that there is no SNE anymore. But compared to the previous SNE I think it's a lot more exciting to be in the Diamond Club for one main reason. This is not my site. This is not Rob Yong's site or Tom Waters's site. This is the player's site. Rob, Tom and I are the ones who perhaps sign off changes to the site, but I will be speaking with every single one of the players about every single improvement we can make.

"It's actually pretty nice this way. We know we've gone from an "empty" site, but that means the page is empty and ready to be filled and we want to fill it. For example, new software is coming up soon; I can show the SNG lobby to the SNG regs, the Cash game lobby to the Cash Game Grinders and the tournament lobby to the tournament regs. Party have agreed that any software change has to be "signed off" by myself and anybody who is close to me at all knows I am asking everybody their opinion on partypoker on a daily basis, trying to work out how to make this the best site in the world. If you're in the Diamond Club, as long as you want to, you will be invited very regularly to help shape the site in the way that you think is best."

And after I finished reading all of that, I returned to that Bernadette Jiwa's article – Ten Things Your Competitor Doesn't Do.
Here they are:
1. Obsess about how their products and services make customers feel
2. Help people to 'buy in' and belong (not just to buy)
3. Make something that's not for everyone
4. Question how they could do it better
5. Listen twice as much as they talk
6. Do what they say they will do
7. Play the long game
8. Deliberately delight
9. Practice empathy
10.Care more
Wow.
Did Patrick Leonard write that list?
Comments