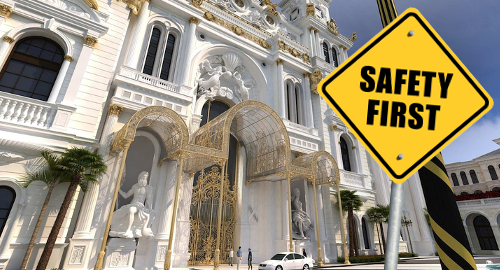 Saipan casino operator Imperial Pacific International Holdings (IPI) will have to wait at least another week to learn whether it can finally open its permanent gaming venue.
On Tuesday, the Commonwealth Casino Commission (CCC) deferred a decision on IPI's request to launch gaming operations at its unfinished permanent venue, the Imperial Pacific Resort, this Friday (26). The CCC said it would readdress the issue at its next scheduled meeting on May 31.
The CCC justified not granting IPI's request due to lingering concerns that the unfinished Imperial Resort could pose a threat to the safety of anyone who sets foot on the premises without one of those Hurt Locker bomb disposal outfits.
CCC executive director Edward Deleon Guerrero told the Marianas Variety that "there's not enough evidence, not enough information to grant the approval to open on Friday." Guerrero said "even if the casino and gaming are ready for operation inside, we want to make sure that the workers, the patrons, the guests and anyone who enters the facility are safe."
The CCC's concerns are the result of a poor safety record at the resort's construction site, which included a debris fire and a worker falling to his death in March. Those incidents led to the FBI raiding the offices of IPI's main contractor and discovering nearly 200 Chinese nationals working without proper visas.
The CCC later revoked the provisional license of subcontractor Gold Mantis, which had been subjected to protests by 92 Chinese workers who claimed they were owed weeks' worth of unpaid wages. Gold Mantis has since paid the workers, and is now asking the CCC to reconsider the revocation of its license.
The CCC is still considering whether to reinstate Gold Mantis' license and there's some pressure involved, as Gold Mantis is responsible for finishing the interior of the unfinished portion of the Imperial Pacific Resort.
IPI issued a statement following its meeting with the CCC, saying that "the safety of guests and employees have always been the highest priority" for the company. IPI said it hopes to satisfy the CCC's high standards as soon as possible "so we can open the casino and further contribute to the [Commonwealth of the Northern Mariana Islands] economy."
Comments