Macau, May 2017 – Global Gaming Expo (G2E) Asia 2017 is on track for to set all-time high marks on a variety of metrics. Current projections include:
• Over 12,000 visitors, including 1,000 top international buyers from 90 countries and regions;
• Over 400 pre-arranged online and offline business meetings;
• Nearly one-third of the 180 exhibitors participating for the first time; and
• An anticipated 70+ companies that will demonstrate innovative online gaming solutions – 45% are new to the event.
"Our goal is to create the most comprehensive experience possible with conference and in-show features that complement the expo, which truly serves as the marketplace for the Asian gaming industry. With interactive educational and networking opportunities, attendees will receive added benefits and opportunities to learn from colleagues and experts within the fast-growing Asian gaming industry," said Josephine Lee, chief operating officer of Reed Exhibitions Greater China.
Key drivers of this projected growth are enhanced conference, robust gaming and integrated resort product offerings and interactive networking opportunities.
New Features for Innovative Gaming Products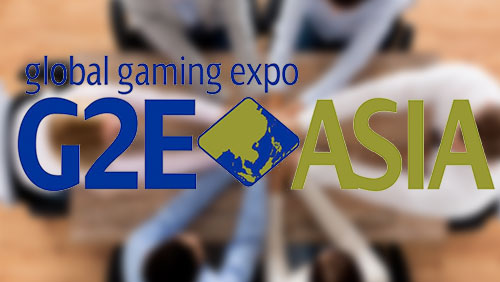 The Parts & Components Pavilion will highlight the most advanced parts and components in the industry – with participation of 100 R&D engineers, product designers, buyers and technical designers. This group of electronic gaming machine manufacturers helps Asian market operators source unique and innovative parts, components and features that will appeal to the Asian casino gaming customer.
In response to G2E Asia's visitor requests for easier ways to find new products, this year's show will debut Product Hot Hits. The Hot Hits chart is generated by compiling the number of exhibitor products whose QR Codes are scanned by visitors, using the G2E Asia app. The top 10 most-scanned products make the "Product Hot Hits" board.  With a glance at the boards dotted around the show floor, visitors will get updates at an instant.
Interactive Networking Opportunities
A first-time networking event called, "Future Technology Leaders' Get-Together" will convene over 120 technology executives from integrated resorts, gaming suppliers and government to exchange ideas and discuss the application of innovative solutions for better customer engagement.
Following the successful launch of the Gaming Regulatory Luncheon last year, this year's working lunch with gaming regulators is called "the Gaming Regulatory Briefing and Networking Luncheon." This program enables gaming regulators to exchange views, share updates and explore opportunities to cooperate in driving the development of Asian gaming.
To cap off each day, G2E Asia will host after-hours networking events. Internationally renowned DJs will perform, while attendees socialize and extend their networking opportunities.
G2E Asia also welcomes visitors to G2E Asia 2017 Networking Cocktail Hours at the G2E Asia Bar mid-day on the show floor.
Above all, after a successful debut in 2016, the Asia Gaming Awards make a return to the G2E Asia program in 2017. Produced by Asia Gaming Brief in association with G2E Asia and The Innovation Group, the awards recognize operators, regulators, suppliers and service providers across 12 fields. The Awards will culminate in a celebratory dinner held at the Parisian, Macao on May 16, 2017.
To learn more about G2E Asia 2017, please visit: http://www.g2easia.com
ABOUT G2E ASIA
G2E Asia is the international gaming trade show and conference for the Asian gaming industry. Organized by the American Gaming Association (AGA) and Reed Exhibition, G2E Asia made its debut in 2007, defining itself as the preeminent show for the Asian gaming-entertainment industry.
About the American Gaming Association

The American Gaming Association is the premier national trade group representing the $240 billion U.S. casino industry, which supports 1.7 million jobs in 40 states.  AGA members include commercial and tribal casino operators, suppliers and other entities affiliated with the gaming industry.  It is the mission of the AGA to be the single most effective champion of the industry, relentlessly protecting against harmful and often misinformed public policies, and paving a path for growth, innovation and reinvestment.
About Reed Exhibitions
Reed Exhibitions is the world's leading events organizer, with over 500 events in 43 countries. In 2014 Reed brought together over seven million event participants from around the world generating billions of dollars in business. Today Reed events are held throughout the Americas, Europe, the Middle East, Asia Pacific and Africa and organized by 41 fully staffed offices. Reed Exhibitions serves 43 industry sectors with trade and consumer events. It is part of the RELX Group plc, a world-leading provider of information solutions for professional customers across industries.
Media Contact:
MM Marketing Communications Consulting Ltd.
Mr. Leslie Wu / Ms. Jessica Lei
Tel: 853 – 2835 5397/ 66663156
Fax: 853 – 2835 5507
Email: leslie@mm.com.mo / jessica@mm.com.mo
Comments