A round up of the first tranche of Champions League Second Round matches including humiliating defeats for Barcelona and Arsenal, a win for the reigning champions Real Madrid, and a woeful performance by Dortmund.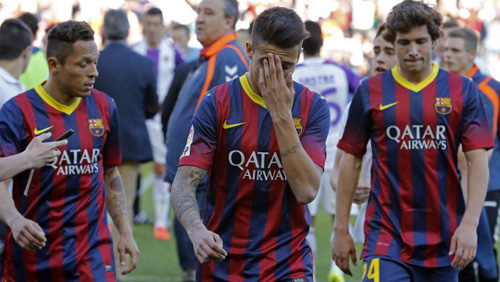 Champions League favourites, Barcelona, are going to have to do something no side has ever done before if they are going to reach the quarter-finals – overturn a four-goal first leg deficit.
The most talented group of footballers the world has ever seen were humiliated at the hands of Paris St Germain, a side who always fail to find what it takes to muscle past the true European giants when the competition gets tough, and it was a former Real Madrid player who sliced the aorta.
Angel Di Maria was destined for great things when Man United paid a British record £59.7m when they signed him in 2014, but the Argentinean failed to find the form that justified his big money move from Madrid.
United cut their losses a year later when they sold him to PSG for £44.3m, and the Di Maria emerged from the crusty old chrysalis that surrounded him during his time at Old Trafford.
Di Maria was on fire as PSG made sure that failing a miracle at the Nou Camp, Barcelona won't make the quarter-finals for the first time in over a decade after scoring a beautiful brace.
He opened the scoring with a scintillating free kick in the 18th minute and scored his second with a left-foot curler from the edge of the box ten minutes after half time. Julian Draxler and Edison Cavani scored either side of that second goal to give PSG a dominating lead going into the second leg on 7 March.
Arsenal Humiliated at Bayern
Arsene Wenger cut a forlorn figure in the media room after he once again watched his beloved Arsenal get ripped to shreds in the business end of the Champions League.
"What did you expect?" Said Roy Keane during his post-match analysis. "They aren't good enough."
And you could see in the eyes of Wenger that he now finally understands that. The longest serving manager in world football was already under pressure coming into this match; he almost certainly will leave at the end of the season after a horror show in Germany.
Arsenal simply lost the plot in a ten-minute spell, just after half time, that saw they them go down 4-1 thanks to a double from Thiago Alcantara and a towering header from Robert Lewandowski.
Until that point, Arsenal looked like they would still be in the tie for the second leg. Arjen Robben opened the scoring with a swooping left foot shot in the 11th minute, but Arsenal went into the half-time break on level terms after Alexis Sanchez scored from the rebound after missing a penalty that should never have been given.
But the second half was a shambles.
"When you have the captain's armband on the arm of Keiran Gibbs, you know you have trouble." Said Keane in his scathing review.
Thomas Muller came off the bench to make it five with two minutes remaining. It was his first goal in over two months of football. Just like Barcelona, Arsenal now faces Bayern in the return leg knowing no team has ever overturned a four-goal first leg deficit. It will be the seventh successive time Arsenal has failed to get out of the Second Round, conceding 19-goals in the first legs of those matches.
The Champions Stride Onwards
With Barcelona looking at an early exit, Real Madrid's bid to become the first team to defend a Champions League title in the modern era looks a very distinct possibility.
They have one foot in the second round after coming from a goal down to beat Napoli by 3-1 in the Bernabeu. Napoli, who currently lie third in Serie A, surprised the champions when they opened the scoring in the 11th minute courtesy of a cheeky goal by Lorenzo Insigne.
But the Spaniards had won 33 of their previous 38 Champions League home games, and they weren't ready to add another defeat to that sparse column.
Karim Benzema headed Madrid back into contention seven minutes later, Toni Kroos made it two in the 49th minute after a slide-rule shot, and Casemiro made sure in the 54th minute with a volley that looked like it had shot out of a cannon.
Benfica Beat Dortmund
Benfica managed to book a 1-0 win against visiting Borussia Dortmund despite being under the cosh for most of the match.
It was a night to forget for the usually devastating Pierre-Emerick Aubameyang who missed a glut of clear cut chances no easier than the penalty he smashed straight at Edison in the second half. It was his third penalty miss in his last four attempts.
Kostas Mitroglou, who grew up in Germany, scored the winner, tapping in from close range after a Benfica corner. Dortmund came into this tie having scored 21-goals in the group stages, and will still be favourites to progress in the second leg.
Results in Full
Paris SG 4 v 0 Barcelona
Benfica 1 v 0 Dortmund
Real Madrid 3 v 1 Napoli
Bayern Munich 5 v 1 Arsenal
Still to Play (21/22 Feb)
Bayer Leverkusen v Atletico Madrid
Man City v Monaco
Porto v Juventus
Sevilla v Leicester City
Champions League Winnings Odds (Courtesy of Oddsshark)
Bayern Munich 14/5
Real Madrid 4/1
PSG 13/2
Juventus 9/1
Atletico Madrid 9/1
Comments