The family of Las Vegas Sands Corp. Chairman and CEO Sheldon Adelson has backed out from the $1.9 billion football stadium that will house the NFL's Oakland Raiders.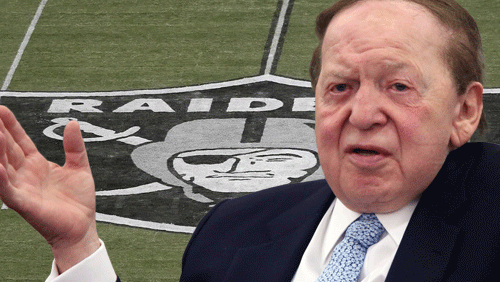 Adelson's exit from the multi-billion stadium project has reportedly left a financial void that even Goldman Sachs may not be able to fill, according to the Las Vegas Review-Journal.
The initial plan was for Adelson to shell out $650 million toward the stadium's construction while the Raiders will commit $500 million. The remaining $750 million would be funded by a 0.88-percentage-point increase in Clark County's hotel room tax.
"The Raiders are putting a lot of hopes in the Goldman Sachs commitments, but I don't know the extent of their commitments, and I certainly do not share that same level of hope," Clark County Commission Chairman Steve Sisolak said, according to the news report. "If (the Raiders) have a Plan B, I'm not aware of it, and the owners meeting is coming up in two months."
Citing a source close to Adelson, the report said that the casino mogul's exit was triggered by the Raiders' submission of a proposed lease agreement to the Las Vegas Stadium Authority on Thursday.
Apparently, Raiders owner Mark Davis was in the casino mogul's office negotiating with the family while Raiders President Marc Badain and Executive Vice President Dan Ventrelle were making a presentation to the authority board
"It was certainly shocking to the Adelson family," the statement said. "We were not only excluded from the proposed agreement; we weren't even aware of its existence."
Adelson lamented that "It's clear the Raiders have decided their path for moving to Las Vegas does not include the Adelson family. So, regrettably, we will no longer be involved in any facet of the stadium discussion."
"While this is not the result my family was hoping for, I am very appreciative of the countless people who have given considerable time and energy to this process, especially so many of our elected officials who have made this a top priority for Southern Nevada," the statement further read.
Reacting to the Adelson's departure from the project, the Raiders team assured that the project will continue as planned.
"The Raiders deeply appreciate the efforts of the Adelson family to bring the Raiders to Las Vegas," the team's statement said. "We know this project could not have advanced to this point without them. The Raiders remain steadfast in honoring Mark Davis' commitment to Gov. (Brian) Sandoval and the state of Nevada to pursue relocation to Las Vegas."
Meanwhile, Stadium Authority chairman Steve Hill thanked the Adelsons for its help to bring the NFL to Las Vegas as well as develop a new home for the UNLV football team.
"The authority will continue to work with the Raiders organization to fulfill the authority's responsibilities as set forth in the Southern Nevada Tourism Improvements Act," Hill said in a statement. "In doing so, the authority will continue to ensure the stadium project is developed in a manner consistent with the clear direction of Nevada lawmakers."