The animated hand replayer app, ShareMyPair, is about to release a new feature that allows brands to advertise on their virtual tabletops without investing a dime. Lee Davy catches up with Steve Miller to learn more.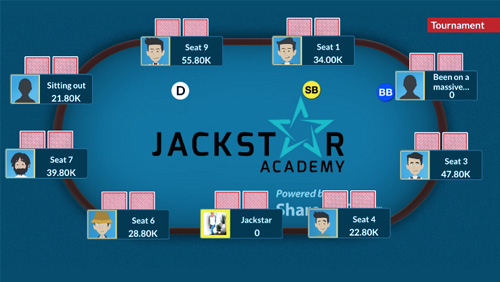 If you fancy a spot of free advertising then ShareMyPair creator Steve Miller may have the answer for you.
ShareMyPair is an app available across all media devices allowing poker players to bypass the delivery of verbal bad beats by uploading them onto a hand replayer and then sharing with social media.
Miller launched the app in 2013 with a little help from the app's main supporter, 14-time World Series of Poker (WSOP) bracelet winner, Phil Hellmuth. Over the past two-years, numerous professional poker players have joined the ShareMyPair team including Greg Raymer, Jonathan Little, Faraz Jaka, Bernard Lee, Jeff Gross, Anatoly Filatov, Vanessa Kade, and Jackie Glazier.
The app draws in between 60-75k average unique monthly visitors (a number that doubles during the WSOP), 100K-125k monthly animation hand views and has been downloaded over 20k times. And now Miller is planning to leverage those metrics by offering a free canvas for brands looking for a spot of free advertising.
The canvas is the virtual poker table that ShareMyPair uses as part of the animated hand replayer feature. Recently, Miller has started to allow brand logos to appear on the table covers including The Poker Players Alliance (PPA), Jackie Glazier's JackStar Academy and Jonathan Little's Poker Coaching, and he is extending that courtesy to the rest of the poker community and beyond.
"ShareMyPair believes that the global poker market requires collaborative efforts by all poker entities for growth and vitality," Miller told CalvinAyre.com. "With such a diverse and fragmented global market, brands often struggle with how to build awareness particularly when these brands lack sufficient funds for traditional advertising campaigns. Custom branding on ShareMyPair tabletop won't solve all brand marketing issues, but it is definitely an effective step in the right direction."

Brand advertising on physical poker tables in events such as the WSOP has been a great way for live tournament operators to make some additional revenue, but the virtual tables in online poker rooms, online training sites, and third party tracking software HUDs have always been lagging behind. Miller believes the rise in social media interests makes it an excellent time to change all of that.
"Consumer brands are constantly adapting to new social media opportunities to leverage awareness and ShareMyPair is a tool that poker marketers can use for indelible engagement with existing customers and potential customers." Said Miller, "ShareMyPair has a proven track record in engaging with poker consumers for 30-60 second segments at a time. With a $0 CPM, it's hard to dispute ShareMyPair's promotional cost-effectiveness."
Miller also revealed that willing partners would also be invited to run pre-roll and post-roll banners on hand animations viewed in-app and on a desktop and mobile web view, with live links to transactional URLs.
If you are a looking for a way to tap into the poker audience, and fund are tight, then check out ShareMyPair at www.ShareMyPair.com.