Lee Davy sits down with the Team PokerStars Pro, Lex Veldhuis, to talk about his interest in gaming, his Twitch stream and his love for MMA.
*To download this audio, right click and save link as*
Lex Veldhuis is a PokerStars Team Pro and a very popular Twitch streamer with over 16,000 followers. He loves his games and found his way into poker via StarCraft, where he met a young man called Bertrand "ElkY" Grospellier, who suggested he might want to give poker a shot. Veldhuis would later thank ElkY by nearly decapitating him during a kickboxing match in 2011.
During our conversation, Lex and I talk about his recent visit to TwitchCon and the similarities between poker and eSports. I garner his views on the Will Kassouf debate; we talk about his newfound love for tournaments and what he would do with 10,000 hours of spare 'do what the hell you like with it' time on his hands.
What follows is an abridged version of the interview. For the full whammy listen or download the audio file above this transcription.
How was TwitchCon?
"It was great; I like these things. As a gamer, I have been watching from afar for so long. It felt like a homecoming. The nice thing about gaming is there are so many similarities to poker. You will see so many different people. Two people you would never connect together hugging because they have been friends for the past 15-years online."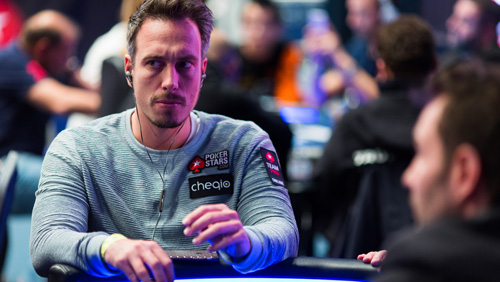 What is the gaming community like?

"Some games are known to be toxic where there is a lot of rage; usually team games where the desire to win is high. The cool thing is if you have a certain amount of skill people will respect you. If you think about the Dota Finals where people are competing for a $8m first prize, the fans are screaming in the stands louder that the World Cup."
Scott Ball believes poker is an eSports, what are your thoughts?
"The best way to describe poker is an eSport. It requires more physical fitness than you think, but it's not necessary. It is a mind game, and it's played on the Internet a lot.
"It's easier to become successful at poker than other eSports. You need to have a certain strategic talent to excel, and there is less percentage of players who are getting paid enough that they can live off it. In poker, if you are good enough to hang with the pros you make a living, and that doesn't happen in eSports. If you are going to have a big tournament in eSports, the cutoff for paying out is a lot more fierce.
"Poker is a nice way to transition for a lot of gamers. It uses the same skill set. It sparks the same interests. It's psychological; there is a one on one element and the metagame. That's what I love about poker. When I played, StarCraft I was always using metagame and poker is the same. Game dynamics has always been my strongest point when I play online. If poker is looking for new people to be interested in the game then the gaming industry is a huge player pool we haven't tapped into yet?"
You stream – are we watching the real Lex or an alter ego?  What are your views on people who are streaming – should they put on a front?

"I think the people who put on a front do it to protect themselves. They do so because they can't control their emotions or they give away too much information in their emotion. When online poker was new everyone had this idea that you had to cancel out emotion and be a robot. I read Jared Tendler's Mental Game of Poker, and he said emotion is very important in poker because being angry teaches you what the weakest side of your game is. I have always been a believer in having emotion.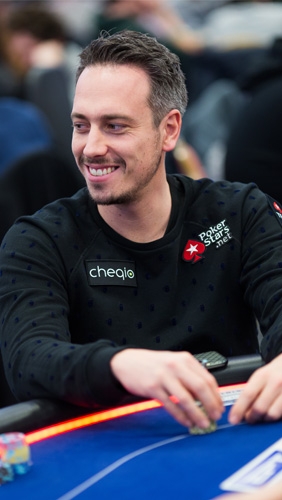 "I don't mind being emotional at the table. It makes me invested in the game. The times I know I am not invested I don't care about losing a flip. I need that investment to be the best. If I am heads-up, I will take it personal if I lose. I don't dislike the person, but I need to think, "I am going to get this asshole,'. I am not childish or immature in how I execute the game. But I need that fire in my belly. It's no good saying ' he was a nice guy,' how am I going to study his game after that to try and destroy him. For me, that's the way I want to play poker, and that's what you see on my stream. I will rage on my stream."
What is your view on the whole Will Kassouf speech play thing?
"There are different facets of his game. One thing, for instance, I like about his game is if he is thinking about a decision in a hand and he is talking to someone. The way he spoke to Griffin Benger – why not? It was fine. I have had multiple times when I have spoken to someone, and it's helped me make the right decision. It's an information game."
"I don't agree with the 'it's within the rules' statement. If your purpose is to deliberately tilt people, that's where I draw the line. If you want to make people feel uneasy during the hand when you are in the hand, that's fine. If you are tanking pre-flop, folding and non-stop talking in between hands to make people feel uncomfortable, I don't like that.
"Do you want to be that person? I don't want to be that person. If I create hostility around me, I can't enjoy the game. If he wants to do it then fine, but I wouldn't.
"He seems surprised in some interviews about the criticism he has gotten, but you reap what you sow. I am honest in interviews and stuff, I know some people think I am a huge dick. I know voicing an opinion creates an opinion about yourself.
"If he is in a hand against someone, gathering information, it's cool. It's more interesting to watch this than silent people, but there still needs to be respect for people.
"I played with him in Barcelona, and I was annoyed the entire time. I don't think the answer is to gang up on him. What I remember from the experience is sitting there thinking, 'why do you have to talk so much, so loudly, in between hands, and everyone on the surrounding five tables is getting tilted. Why are you talking so much?' He specifically says it's to get a rise against people. I would want people to think of my personality at the table as an extension of my personality off it.
"I have a problem when people say that Phil Hellmuth is a nice guy away from the table. A nice guy with kids and a wife shouting at people on a table calling them an idiot. Do I think he's a nice guy off the table? I don't care anymore because of what he has done on the table.
"Would it be +EV in life for me to skip to the front of the line and have an attitude about it? It might be +EV because I will be more efficient, but I don't want to constantly create this atmosphere that surrounds me."
What is your main goal for 2017?
"I have just switched to tournaments which is ironic because at first I was obsessed with winning a poker tournament. I liked the late stages of tournaments psychology, but I don't respect the early stages of a tournament. What I hated about poker tournaments was the fact that to a point when you have 12bb anyone in the world can play as good as anyone if you put in the mathematical work.
"I think it comes from the frustration of not doing what I could. My short stacked game was bad. If I believed that anyone could learn the short stack game and I could excel at the deep stacked part of it why didn't I just learn the short stack game and make myself as good as my talent for deep play?
"I feel like I have matured a lot. I feel I have come full circle in poker. Now through the stream, I want to show people how fun poker is. The tournament is like a story, and you feel all the love and support throughout the way.
"Also you understand that people are measured on tournament success. Since the stream, I understand why the tournament players are always the heroes. You want this measurable moment where you have a sword in one hand and a cup in another.
"I am learning a lot of new stuff I should have learned earlier, so my only goal is to get better at tournaments. I also want to show the people how to do it the right way. If I can afford a $500 buy-in tournament, it doesn't mean I should play it if my goal is to make money in poker.
"I stream six to seven hours a day, and three hours a day on the technical side of things. It's hard work. I have also been doing a lot of coaching, so I want to build on that too."
If I gave you 10,000 hours to work on anything what would you choose and why?
"Probably MMA, if I were really good at MMA I would learn to fight well, but would also be the most fit I could be – fighting fit. Also, kickboxing taught me so much about holding your chin up and doing the best you can. I got annoyed after the ElkY fight when people criticised him. You don't know what it's like to turn up to a fight and overcome your mind when it starts protesting. Fighting helps you understanding you can handle more than you think you can."