One of the key participants of Blockchain & Bitcoin Conference Russia will be a speaker that is unique for Russia – financial analyst and former vice president of JPMorgan Chase Tone Vays. On November 10, he will present his vision on how blockchain will develop in Russia and globally.

Participant of the largest US conferences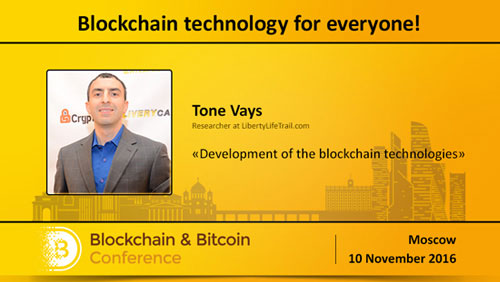 Tone Vays is an expert in the sphere of finance and cryptocurrencies, author and creator of the LibertyLifeTrail website. Has been working on Wall Street for 10 years. Having a master's degree in financial engineering (Florida State University), started as a risk analyst at Bear Stearns. After the 2008 financial crisis became a vice president at JPMorgan Chase.
Being an expert in the sphere of economic trends, trading and risk analysis, started to deal with cryptocurrencies in 2013. Began to actively spread ideas related to digital money, and became an author of scientific papers on this topic. Was Head of Research at BraveNewCoin and wrote analytical materials for CoinTelegraph.
The latest researches from Tone Vays on bitcoin and blockchain are published on his personal website LibertyLifeTrail.com.
The speaker believes that blockchain is a technology that promotes economic freedom. He illustrates this thought with examples, being a constant participant of the largest conferences in the USA.
Communicate in person
On November 10, participants of Blockchain & Bitcoin Conference Russia will have a golden opportunity to ask Tone Vays questions after his presentation or during the coffee break.
Don't miss it, register now!