Clarion Events is bringing a touch of William Shakespeare to G2E Las Vegas as part of the official launch of the multi-media campaign in support of ICE Totally Gaming 2017.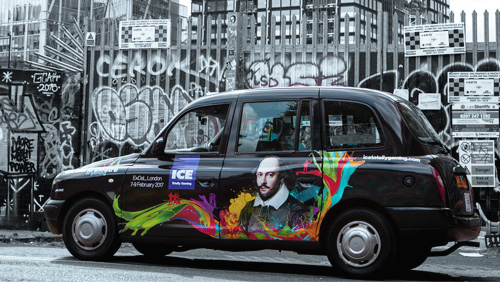 The ICE booth 5023 will feature 'The world theatre of gaming' creative, described by Clarion Gaming Division's, Managing Director, Kate Chambers, as 'William Shakespeare meets graffiti artist, Banksy' and which is set in a contemporary London street environment.  Expanding on the latest ICE campaign and the decision to launch in Vegas, Kate Chambers said: "In the 400th anniversary of his death, we are harnessing the influence of the world's greatest playwright to spearhead the international marketing campaign for what many believe to be the world's leading gaming expo.
"Shakespeare has a fantastic international reach and his work has been translated into over 100 languages.  The links between ICE and Shakespeare are closer than most people might realise.  Our home at the ExCeL Exhibition Centre, which is situated on the banks of the river Thames, is just six miles (ten kilometres) from the Globe Theatre, regarded as the spiritual home for Shakespeare's 37 plays and 154 sonnets. It has become a tradition for us to launch the ICE campaign in Vegas and I look forward to welcoming the many ICE stakeholders who will be at G2E on to our Shakespeare themed booth."
The 2016 edition of ICE attracted a record and independently audited attendance of 28,487, who travelled to London from 150 nations.  The exhibitor line-up comprised 529 international companies and organisations occupying 38,980 square metres of space (net).
For more information and how to attend the world's most international gaming expo, visit icetotallygaming.com
Media Enquiries:
Dan Stone –  [email protected]
+44 20 7384 8121
Chris Jones – [email protected]
+44 1273 699 900