EDWARD KELLY KNOCKS OUT VINCENT LATOEL
MARCIN PRACHNIO STOPS JAKE BUTLER
August 2016 – Jakarta, Indonesia: The largest sports media property in Asian history, ONE Championship™ (ONE), sent the packed Jakarta Convention Center crowd into a frenzy with heart-thumping world-class mixed martial arts action moving to the beat of a live musical performance by DJ duo, GLOWINTHEDARK. ONE: TITLES & TITANS electrified the crowd with exciting bouts, showcasing the beauty of Asian mixed martial arts. In the main event, Luis Santos of Brazil defeated Igor Svirid of Kazakhstan by unanimous decision.
Visit the official ONE: TITLES & TITANS photo gallery by clicking:
https://www.dropbox.com/sh/h8ehqrhlhdad0aq/AADe8r0Ua-dWv4FmAHM8mAo4a?dl=0
In the main event of the evening, Luis "Sapo" Santos of Brazil overcame a furious rally at the end of the fight by former ONE Middleweight World Champion Igor "Lionheart" Svirid of Kazakhstan to win by unanimous decision in a three round welterweight contest. Both fighters started off the bout cautiously in the first two rounds, carefully gauging each other's range and occasionally unleashing well-placed strikes. Action picked up in the third round when Santos was able to take Svirid to the mat and work on ground-and-pound. Towards the end of the bout Svirid had his moments in top control, nearly finishing Santos with a series of powerful blows, but it proved insufficient to earn the judges' nod.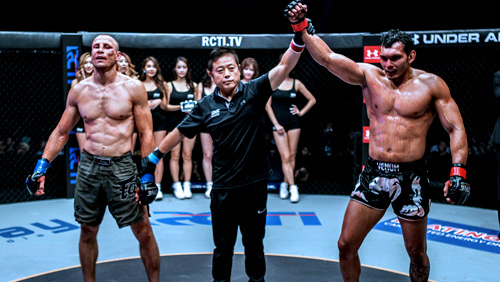 In an exciting performance by the Philippines' Edward "The Ferocious" Kelly, the Baguio City native outworked a strong and experienced opponent in Dutch-Indonesian mixed martial arts veteran Vincent "MagniVincent" Latoel. Kelly needed less than two rounds of a scheduled three to win by devastating knockout in the co-main event of ONE: TITLES & TITANS. At the center of the cage, Latoel and Kelly traded wild strikes with Kelly scoring from his world-class wushu stance while Latoel owned the edge in the clinch. Within a minute into round two, Latoel missed a combination against the fence and Kelly countered with vicious right hook that dropped him to the canvas.
In an RCTI exclusive bout, Indonesia's Djatmiko Waluyo by way of Mexico City, Mexico defeated the hard-punching Islam Sayed of Egypt to win by submission just minutes into round two. After the two fighters exchanged combinations at the center of the cage in the first round, the action quickly turned to the ground with each combatant putting in solid work from top control. In round two, both men found themselves on the canvas once again, this time in simultaneous heel hooks but it was Waluyo who coerced Sayed to submit.
Polish buzzsaw Marcin Prachnio scored a highly-impressive victory over American Jake Butler in a clash of top middleweight contenders. Although Prachnio tried his best to avoid going to the ground, Butler, who moved down one weight division from light heavyweight, used his wrestling to score a takedown on Prachnio. Butler dominated the grappling exchange with his world-class wrestling but Prachnio never relinquished complete control and by the middle of the round, the Polish fighter delivered a knee that effectively ended the bout.
Unbeaten lightweight prospect Saygid Guseyn Arslanaliev made quick work of opponent Haolan Jietebusibai of China, to win by scintillating submission moments into the very first round. Haolan avoided trading strikes with Saygid who is known as a powerful puncher, instead opting to rush into the clinch. In close distance however, Saygid grabbed a hold of Haolan's head and squeezed tightly on a standing guillotine to force the tap.
In a display of high-level technical grappling, Dutch-Indonesian fighter Anthony "The Archangel" Engelen returned to the ONE Championship cage with a resounding victory over Egypt's Sami Amin. The first round saw Engelen play immediately to his strengths, working in the clinch to take Amin down to the ground and operate in his element. In the second round, Engelen went straight back into the clinch, this time angling to take Amin's back which he did successfully. Engelen then snaked his forearm around Amin's neck to latch onto a rear naked choke, forcing Amin to tap shortly after.
In a bantamweight contest, Casey Suire of Lafayette, Louisiana won a close split decision against Chinese fighter Xie Bin to the roar of the crowd. Suire found a home for his left jab on Xie's chin in the first round and kept Xie intelligently at the center of the cage, unable to land his combinations. In the second, Xie switched tactics and found success as he opted to play a counterpuncher role but Suire tagged him with a punch that dropped him towards the end of the round. In the third, a leg kick hurt Suire but the American was able to hang on to the end to clinch the victory.
Local Indonesian talents Sunoto and Yohan Mulia Legowo put in a tremendous performance to the cheer of their hometown fans in Jakarta. After a brief feeling out period, Sunoto and Legowo went to work on the ground. With Sunoto in top control, Legowo made the mistake of giving up his back and Sunoto capitalized on a rear naked choke opportunity. With the hold in deep, Legowo had no choice but to tap out.
Featherweight prospects Mario Satya Wirawan of Indonesia and Burn Soriano of the Philippines kicked off ONE: TITLES & TITANS with a quick battle of two highly-motivated fighters. The two wasted absolutely no no time as they immediately engaged by the cage fence. After Wirawan missed with a combination, Soriano spun around and landed a spinning back fist on Wirawan's chin. With Wirawan out on the mat, Soriano landed a couple of hammer fists to seal the deal.
Official results for ONE: TITLES & TITANS
Welterweight bout: Luis Santos defeats Igor Svirid by Unanimous Decision (UD) after 3 rounds
Featherweight bout: Edward Kelly defeats Vincent Latoel by Knockout at 0:57 minutes of round 2
Welterweight bout: Djatmiko Waluyo defeats Islam Sayed by Submission (Heel Hook) at 2:25 of round 2
Middleweight bout: Marcin Prachnio defeats Jake Butler by TKO (Strikes) at 2:30 minutes of round 1
Catchweight bout: Saygid Guseyn Arslanaliev defeats Haolan Jietebusibai by Submission (Guillotine Choke) at 0:26 minutes of round 1
Featherweight bout: Anthony Engelen defeats Sami Amin by Submission (Rear Naked Choke) at 0:52 minutes of round 2
Bantamweight bout: Casey Suire defeats Xie Bin by Split Decision (SD) after 3 rounds
Featherweight bout: Sunoto defeats Yohan Mulia Legowo by Submission (Rear Naked Choke) at 4:14 minutes of round 1
Bantamweight bout: Burn Soriano defeats Mario Satya Wirawan by Knockout at 0:15 minutes of round 1
In case you missed the action log on to www.onefc.com/livestream for the full replay of the fights at only US $9.99.
For more updates on ONE Championship, please visit www.onefc.com, follow us on Twitter and Instagram @ONEChampionship, and like us on Facebook at https://www.facebook.com/ONEChampionship.
About ONE Championship™
ONE Championship is the largest sports media property in Asian history. Headquartered in Singapore, the world's most exciting mixed martial arts organization hosts the largest sports entertainment events across Asia featuring the best Asian mixed martial artists and world champions, all signed to exclusive contracts, on the largest media broadcast in Asia. ONE Championship is broadcast to over 1 billion viewers across 118+ countries around the world with some of the largest global broadcasters, including FOX Sports, Setanta, MNC, Astro, Thairath TV, ABS-CBN, TV5, MYTV, HTV, Esporte Interativo and more.
Media Contact:
Loren Mack, ONE Championship
(e): [email protected]
(m): +65 9771 5617
@LorenONEFC