Ethics is once again a boiling point topic in the eSports industry after an investigation uncovers that the same company owns CSGOLounge and the eSports team Virtus.pro, and Wings Gaming wins The 2016 International.

eSports ethics has once again been brought into question after esportsobserver.com revealed that a spot of digging around in Polish company registry files revealed that the parent company of CSGOLounge also owns one of the top Counter-Strike teams Virtus.pro.
CSGOLounge is one of the many third party Counter-Strike skin betting gambling sites that received a Cease & Desist letter from the game creators Valve Corporation in the wake of a series of high-profile incidents that brought the legality of skin betting into the mainstream press.
One of the scandals that became a catalyst for change involved two prominent eSports YouTube stars who regularly filmed themselves winning big and frequently on the skin betting site CSGOLotto. It later transpired they owned the company that they were betting on raising ethical concerns over the potential to cheat.
This latest revelation is very similar. There is a serious ethical issue involved when a company owns both the gambling site and the team that competes in some of the matches that people gamble on.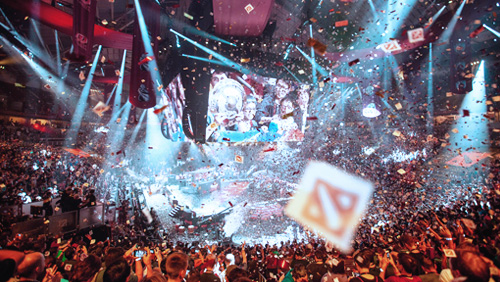 The parent company is called ESForce Holdings (formerly Virtus.pro Group) and paperwork shows they own 90% of CSGOLounge, as well as the Virtus.pro eSports team. ESForce Holdings also owns the media rights for the Ukrainian eSports team Na'Vi, as well as over 180 various eSports websites, a tournament organiser, and several eSports content studios.
In a blog post titled Unnecessary Risks on the Counter-Strike internet site, the rules explicitly prohibit the type of business relationship ESForce Holdings has with CSGOLounge and Virtus.pro.
"Professional players, teams, and anyone involved in the production of CS:GO events, should under no circumstances gamble on CS:GO matches, associate with high volume CS:GO gamblers, or deliver information to others that might influence their CS:GO bets."
The post goes on to state that Valve will 'always assume' that a team breaking these rules has 'access to private CS:GO-related inside information' that could give teams an 'unfair advantage' when placing a bet on a CSGO game or match.
The rules also make it clear that a breach of these regulations not only damages the personal brand involved but has a 'substantial impact' on the health and stability of Counter-Strike as a sport.
"You are ambassadors for your game." The blog post reminds readers.
The business is young.
Banana skins will be left lying around.
The important thing now is for them to be picked up, cleaned up, and actions are taken to prevent them from being dropped again.
It's unclear what action Valve will take in light of the revelations. Back in January 2015, Valve banned seven pro Counter-Strike players from Valve-sponsored events, after establishing their involvement in a rigged match held in Aug 2014 between iBUYPOWER and NetcodeGuides.com.
China's Wings Gaming Win Largest eSports Prize in History at The 2016 International
According to press reports, Michael Phelps receives $25,000 for every gold medal he wins, $15,000 for silver, and $10,000 for bronze. And we will remember the greatest Olympian of all time for all time. I'm not sure the same rings true for the eSports team Wings Gaming.
The Chinese Dota 2 team has won the 2016 International and with it a $9.1m first prize, making it the largest purse picked up by an eSports team in the sports history.
It was a competition of upsets with all of the favourites eliminated very early in the tournament. Nobody in the world of eSports predicted the final of Wings Gaming v Digital Chaos (DC). The latter didn't even have a team in March after rival teams poached all of their players leaving the owner no choice but to send a tweet to all of his followers that the team was dead. They picked up $3.4m for their runner-up spot.
Game creators Valve put $1.5m into the prize pool. The additional $19,212,395 came courtesy of in-game purchases by Dota 2 players. It was the largest prize pool ever created in eSports history beating the 2015 International's record of $18m.
Comments