The buck stops with him.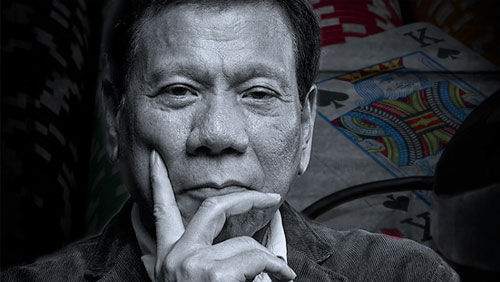 Philippines-based gaming technology provider PhilWeb Corporation chairman Roberto Ongpin has stepped down from his post a day after Philippine president Rodrigo Duterte vows to destroy him.
In an announcement to the Philippine Stock Exchange, Ongpin tendered a brief resignation letter addressed to PhilWeb President Dennis Valdes.
"I hereby tender my resignation, with immediate effect, as Chairman and Director of Philweb Corporation and all of its subsidiaries," Ongpin said. He did not state any reason why he resigned as the Philweb Chairman.
The Ongpin-led Philweb Corp. has seen its share price drop as a result of Duterte's anti-gambling stance. Before his resignation on Thursday, PhilWeb shares nosedive by 50 percent to 7.12 pesos, the biggest intraday drop since 1991 and the lowest level since December 2014.
More than a month since Duterte announced that "online gambling must stop," gambling investors are still clueless as to what "online" gambling activities the president was out to close and what is his real reason behind his decision to launch an all-out war against online gambling.
One of the companies that has been greatly affected by Duterte's stance on online gambling is, which is owned by former Philippine Trade Minister and business tycoon Roberto Ongpin. PhilWeb operates a network of 268 Pagcor e-Games cafes with a total of 8,839 gaming terminals nationwide.
PhilWeb's e-Games cafes are in Metro Manila, Quezon, Batangas and the Balesin Island resort, which Ongpin also owned. Philweb's temporary license is set to expire on August 10.
The Duterte administration, through the state-run Philippine Amusement and Gaming Corporation (PAGCOR), has started revoking 124 eGames permits while licenses of 302 eGames and 324 eBingo outlets wouldn't be renewed.
There were earlier speculations that the Duterte administration is targeting Ongpin's businesses especially after the Philippines' Securities and Exchange Commission has ordered his banishment from the board of any publicly-listed companies in the island nation for his alleged involvement in insider trading.
But on Wednesday, Duterte publicly expressed his distaste toward Ongpin in a speech before members of the Parish Pastoral Council for Responsible Voting (PPCRV) in Macalanang Palace.
The Philippine Daily Inquirer reported that Duterte singled out Ongpin as the oligarch he wanted to destroy. Duterte was irked by Ongpin's political connections. He claimed that the tycoon had been using this connection to advance his business interest.
"I'll give you an example, publicly, Ongpin, Roberto. He had been a crony of [Pres. Ferdinand] Marcos before. Trade Minister, I think. He's influential and successful. [During President] Ramos, he was a hanger on and even during the time of President Gloria Arroyo and Benigno Aquino III. Now he owns the online [gambling]," Duterte said. "These are the guys who just sits in their private airplanes, who sits in their mansions where the money will drop, like a taxi meter."
If Duterte's anti-online gambling stance proves to be a smokescreen to get rid of Ongpin then this battle has a costly collateral damage. The shutdown of PAGCOR's eGames operations is expected to cost the state-owned agency big-time, as eGames contribute up to P9b (US $191m) to PAGCOR's annual revenue. PAGCOR is the largest contributor to government revenue among all state-owned entities.
Thousands of good-paying, white collar jobs to the Philippines is at risk of evaporating if international online gambling sites are forced to find another Asian base of operation.