A Russian online poker player known by the pseudonym SolidPenis has broken the record for winning the most money while streaming live on Twitch after winning a €250,000 Spin & Go jackpot on PokerStars.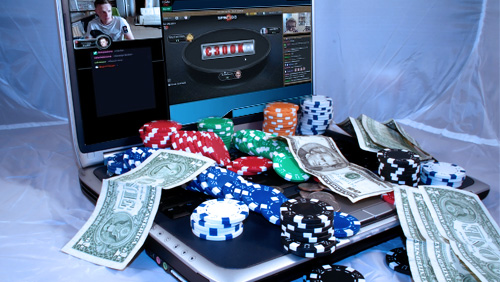 What does Bertrand 'ElkY' Grospellier, Rupert Elder, Doug Polk, and a Solid Penis have in common?
It's not what you think.
Honestly.
The four of them have all, at one time in their careers, held the record for the most money won playing online poker while streaming live on Twitch.
In May 2015, ElkY got the ball rolling by finishing fifth for a smidgen under $80,000 while streaming his play in a $2,100 buy-in Spring Championships of Online Poker (SCOOP) event.
That record was smashed by another European Poker Tour (EPT) Main Event winner in Sep, 2015 when Rupert Elder won the Winning Poker Network (WPN) Sunday Major for $124,000 while streaming online on behalf of the Global Poker Link.
And then in April of this year, Doug Polk moved the needle to the $162,000 mark after winning the $700 buy-in Kilimanjaro event as part of PokerStars Mountain Series while streaming on behalf of his company Upswing Poker.
And the record has fallen once more.
In fact, it's been smashed.
By a Solid Penis.
I imagine when the young Russian decided to open a PokerStars account using the name SolidPenis he didn't think the whole world would one day get to know that it was his nickname.
That changed recently when he won a $25 Spin & Go jackpot session for €250,000 ($275,000) while streaming live on Twitch.
I interview a lot of people. I am always searching for the emotion. It's not always easy for someone to convey what it was like when they lose it. So it was solid gold to see SolidPenis trying to deal with the fact that he had just won such a huge sum of money live in front of his audience.
PokerStars Team Online Pro, Mikhail "innerpsy' Shalamov, created a video of the whole thing where he translates SolidPenis's views into English. It's a fantastic experience, and you can check it out below this article.
SolidPenis doesn't even realise that he is playing for the €250,000 first prize for a good minute after the amount flashes across his screen. The amount is €300,000 because the second and third place finishers each picked up €25,000 for their troubles leaving €250,000 to the winner.
"It can't happen. It's not happening for real?" Questions an undoubtedly dumbstruck SolidPenis.
The final hand sees our one eyed trouser snake getting it in A2 v 44, and despite his opponent hitting a set, SolidPenis turned a wheel and faded the boat to leave him going mental on his own in his apartment.
Then comes a moment of reflection that is pure magic.
It's a moment we have all dreamt of.
"I have no words."
"What important thing can I say at this moment?
"Be kind to everyone, believe in love, and I won't say I deserved it or didn't deserve it."
He simply doesn't know what to say.
And I love the way he checks his account to see if the €250,000 has landed.
Priceless.
A guy called SolidPenis wins a €250,000 jackpot while streaming live on Twitch.
What are the odds?