Instant-win title based on video arcade classic and featuring first-person shooter functionality is the latest release under Pariplay and Atari's partnership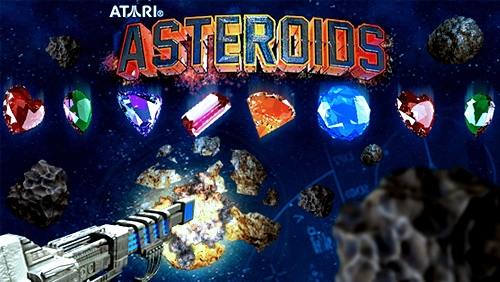 21st July 2016 – Pariplay Ltd., a leading gaming technology company serving iGaming operators, land-based casinos and iLotteries, and Atari, a leading interactive entertainment group, have announced the launch of their Atari® Asteroids instant-win game. The most recent release under the two companies' ongoing strategic partnership, the Atari Asteroids® game has been developed by Pariplay's in-house studio in HTML5 and provides players with an immersive experience, including first-person shooter functionality and HD graphics.
In 2014, Pariplay and Atari partnered to develop a series of real-money gambling titles based on Atari® video arcade classics. Following the successful release of the Atari® Black Widow online slot in Q1 2016, Atari® Asteroids is the first Atari®-branded instant-win game Pariplay's in-house studio has developed under the partnership.
Paying homage to the classic 1979 space-themed video arcade game, Pariplay's Atari® Asteroids is an instant-win game as well as a first-person shooter whereby players use laser canons to blast passing asteroids and reveal hidden gems. A nine-symbol action scratch game, Asteroids® allows players whose asteroid-shooting skills succeed in revealing three identical gems to win jackpots of up to $100,000.
Developed in HTML5 to optimize play on tablets and smart phones as well as desktop computers, the Atari® Asteroids game boasts state-of-the-art HD graphics and sound effects as well as auto-bet and auto-play functionality. Strongly focused on maximising the player experience, the game supports multiple languages and over 100 different currencies. In addition, Asteroids®' return-to-player (RTP) value of 94.9% ensures that financial reward is as important an element in the game as entertainment.
"Our Atari®-branded games are a key focus for our development studio, so we're excited to bring to market a sophisticated, highly interactive instant-win title that's based on such an iconic arcade game as Asteroids®," said Adrian Bailey, General Manager at Pariplay Ltd. "Atari® Asteroids effectively balances the skill and entertainment focuses of the original arcade classic with the excitement of real-money iGaming, so it's likely to become an important game in operators' offerings in a range of markets."
Bailey added that additional Atari®-branded games were currently in development at Pariplay's in-house studio. The Atari Star Raiders® video slot is scheduled for release by the company in August 2016.
"Online gambling is an integral part of our strategy," said Fred Chesnais, CEO of Atari, Inc. "Given Pariplay's strong reputation in software development in the real-money iGaming space, we're more than ever committed to this activity and we believe that, with the Atari brand and Atari games, we can definitely become a major player in the space."
For more information on Pariplay Ltd.'s Atari® Asteroids game, please contact Pariplay.
About Pariplay Ltd.  
Pariplay Limited is a leading provider of digital gaming products, offering state-of-the-art, in-house developed platforms and digital games as well as integrated third-party games from leading industry companies. Founded in 2010, our team has over 40 gaming experts to support our customers' requirements in a dynamic and competitive environment.
The company is licensed and regulated by the Gibraltar Gambling Commission, Our Gaming Systems, RNG, and all of our games are certified and tested by GLI (Gaming Laboratories International), Australia-based iTechLab and Gaming Associates, all of whom are the industry standard for online gaming testing and certification.
As a business-to-business provider of variety gaming products, Pariplay fully understand the importance of responsible gaming and, as such, has implemented policies and tools within its systems and games to provide industry-leading entertainment in a socially responsible fashion. The system combines identity verification with age verification and geo-location services to determine whether an individual meets the minimum age requirement and is playing within a specific territory. We have implemented various responsible gaming tools and mechanics to meet different regulatory standards and have provided players with a sophisticated self-exclusion tool that offers them an easy way to manage their gaming habits. In addition, Pariplay works with GamCare, a leading provider of information, advice, support and free counselling for the prevention and treatment of problem gambling.
At present, Pariplay provides its systems and games to customers in Europe, North America and Africa. Among these customers are state and private lotteries, online gaming operators like 888 and land-based casinos.
About Atari
Atari, incorporated as Atari SA and its subsidiaries, is global entertainment and multiplatform licensing group. A true innovator in video games founded in 1972, Atari owns and/or manages a portfolio of more than 200 games and franchises including globally recognised brands such as Asteroids®, Centipede®, Missile Command®, Pong® or Test Drive®. Atari uses this substantial portfolio of intellectual properties to release attractive online games (using web browsers, on Facebook and through download) for smartphones, tablets and other connected devices. Atari also distributes and develops interactive games for Microsoft, Nintendo and Sony game consoles. Atari also enhances its brand and its franchises with licensing agreements in other media, spinoffs and publishing. For more information, go to http://www.atari-investisseurs.fr.
Contact Information: Pariplay
Gili Lisani
CEO
Pariplay Ltd.
Tel.: +972 73 2060189
Email: [email protected]
Website: www.pariplayltd.com
LinkedIn: https://www.linkedin.com/company/pariplay-limited
Contact Information: Atari
Investor and press relations: Calyptus – Marie Calleux
Tel + 33 1 53 65 68 68 – [email protected]
Atari – Philippe Mularski, Chief Financial Officer
Tel +33 1 83 64 61 58 – [email protected]