Johannesburg, South Africa,  29 June 2016 – The Casino Marketing Forum announces the lineup for the workshop day on 25 August. Mirroring the theme of the Forum closely, the workshop day is focused on empowering attendees to effectively use digital and data in marketing to gain business insight and advantage.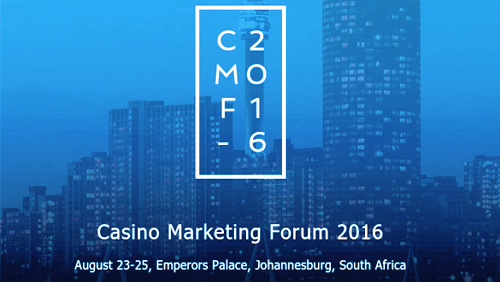 The first half-day workshop, 'Fast Track to Digital Marketing' is tailored at a beginner to intermediate experience level. Nic van den Berg, Joint Managing Director of NMP Agency brings his extensive experience in digital and media platforms to play with a complete overview of the digital marketing landscape, including all the essential disciplines, how they fit together and how to assess what's right for a casino strategy.
The workshop day ends with an afternoon session on big data. The 'Creating Big Data Consumers in Gaming' Masterclass is designed for an intermediate to advanced level of attendee. Gary Jackson, Founder of the LOL Entertainment Group will focus in how casinos can use big data stories as an engagement tool on the casino floor – or within a website – to attract new gamers and players, and as a way to upsell.
The preceding two Forum days (23 – 24 August) feature top South African and International industry experts in marketing and media, digital and casino legislation. The formidable speaker panel will be on hand to inform and provide sage advice to casino marketing executives, and to answer questions and interact with the attendees. The industry experts on board include:
• Gary Jackson combining his Big Data and Analytics expertise with standup comedian talents to chair the event – LOL Entertainment Group Hong Kong
• Madelein-Joy Özok discussing the complexities of marketing as a discipline – Sun International
• Rajesh Dullabh addressing data and how it can drive results – Tsogo Sun
• Arjan Korstjens will help delegates build communications strategies for the Casino floor – Totally Gaming Academy: Amsterdam
• Pietro Calicchio gives and overview of the state of the gambling industry – PwC
• Laiza Zikalala discusses the role of online and offline media – Media Shop
• Sibongile Simelane-Quantana leads the panel discussion on responsible gambling – SARGF
• Ivan Zaltsman joins the panel discussion to give insight from a sports betting perspective – World Sport Betting
• Marc Samouihan leads performance and affiliate marketing and email marketing sessions – New Media Logic
• Edward Lalumbe explains the impact of FICA on Casinos – Gauteng Gambling Board
• Sarah Buerger overviews POPI and successful POPI projects – Michalsons Attorneys
• Sarina de Beer explains what makes a brand in the mind of a younger generation – Ask Africa
• Crispian Brown is focused on how to use content in a marketing strategy – New Media Publishing
• Paula Raubenheimer takes the delegates through the complexities of programmatic buying – Southern X
• Jonathan Hoehler explains why mobile is no longer a buzzword – DigitData Limited
Forum registration is now open at www.casinomarketingforum.com
FOR FURTHER INFORMATION CONTACT
Mandy Rees, Marketing Communications Manager: Eventus-International
P: +2710 500 9849 / +2711 083 8386
Twitter: @BiGAfricaSummit
L: hk.linkedin.com/in/reesmandy
Eventus International Limited
Suite 1104, Crawford House
70 Queen's Road Central, Hong Kong
ABOUT EVENTUS-INTERNATIONAL
Eventus-International is an independent global event producing company that specialises in gaming conferences and exhibitions. Based in Hong Kong and South Africa, we pride ourselves on being connected to the best software and technology companies, owners and operators, gaming and platform providers, payment solution providers, regulators, attorneys in the gaming sector.
We connect businesses to establish new contacts and deals through our focused content led events and dynamic exhibitions.
Sports Betting West Africa
18 – 20 July 2016
Accra, Ghana
Casino Marketing Forum
23 – 25 August 2016
Johannesburg, South Africa
4th Annual BiG African Gaming Summit
24 – 26 October 2016
Cape Town, South Africa
Fantasy Sports Expo Asia
1 – 2 December 2016
Hong Kong, China
Africa Lottery Forum
12 – 14 December 2016
Abuja, Nigeria