World Series of Poker officials have officially opened the voting process for the 2016 Poker Hall of Fame, and that means the annual xenophobic debate begins in earnest.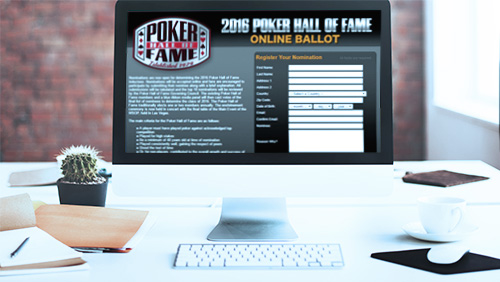 The nomination process for the 2016 Poker Hall of Fame has started suggesting it's time for non-American poker enthusiasts to start their annual complaint process regarding the lack of non-Americans handed the highest honour bestowed in poker.
The main cat calls generally come from European mouths. The Poker Hall of Fame has enshrined 50 members since Benny Binion created it in 1979 and none of them are of European descent.
Last year, cries of xenophobic attitudes reached fever pitch after the late Dave 'Devilfish' Ulliott missed out and American citizens John Juanda and Jennifer Harman got in.
Those who want a European voted into the Poker Hall of Fame may have to wait until next year to pressurise their point of view. Phil Ivey turned 40 in February and is a cast iron certainty to be voted into the elite group, as Daniel Negreanu was when he turned 40 in 2014.
The Poker Hall of Fame opened for business by inducted seven members in 1979. Since it's birth the Poker Hall of Fame has only inducted one or two players at a time. The last single entry was in 2009 when his peers inducted Mike Sexton. It's been two ever since. With Ivey taking one of those spots, it will make it even harder for a non-American to squeeze into the Poker Hall of Fame this year.
The Women in Poker Hall of Fame (WiPHOF) board proved there was no American loyalty in their voting process earlier this year when the UK's Victoria Coren-Mitchell made the grade. The only two-time European Poker Tour (EPT) Main Event champion in history became the first non-American to be inducted into any Poker Hall of Fame.
May that be the light that guides one of her European brethren into its big brother?
The WSOP became responsible for the Poker Hall of Fame after Caesars Entertainment acquired their assets in 2004. In 2011, induction rules changed after a public vote resulted in a 23-year old Tom Dwan making it onto the shortlist. Fortunately, the faceless and nameless members of the Poker Hall of Fame Governing Council denied young Tom his entry. I mean come on, you have to keep this shit serious with the likes of Wild Bill Hickock in the lineup. A few years later, the organisers ensured a nipper would never get into the Poker Hall of Fame after creating a minimum age of 40.
Anyone can vote. Click on the following link, make your nomination, and leave a brief explanation as to why you believe your candidate is the best.
The Poker Hall of Fame Governing Council will select the Top 10 nominations, and then the existing Poker Hall of Fame members and a blue-ribbon media panel will cast votes on the final list.
Here is a reminder of the criteria for selection.
• A player must have played poker against acknowledged top competition
• Played for high stakes
• Be a minimum of 40 years old at time of nomination
• Played consistently well, gaining the respect of peers
• Stood the test of time
• Or, for non-players, contributed to the overall growth and success of the game of poker, with indelible positive and lasting results.