Credit rating agency Moody's Investor Service has painted a bleak picture over Macau's faltering economy horizon as it downgraded the city state's sovereign debt status amid slumping gaming revenue.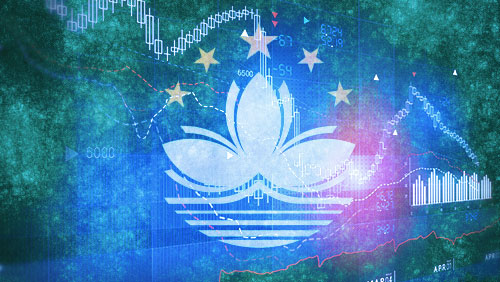 From Aa3, Macau's long-term sovereign debt rating now stands at Aa2 with a "negative" outlook due to the uncertainty surrounding Chinese special autonomous region's growth, which has been stymied by low revenues from its casinos. Moody's also lowered Macau's long-term foreign currency bond ceiling to Aa2 from Aaa and its long-term foreign currency deposit ceiling to Aa3 from Aa2.
Sovereign credit ratings, which are indications on the government's ability to repay obligations, are used by investors as proxies for the strength and stability of the local economy.
"The rating downgrade reflects Moody's view that the sharp weakening in the economy, with growth remaining highly volatile, coupled with the limited policy response to the fall in gaming revenues, leave Macao's credit profile weaker than those of Aa2 peers," the debt watcher said in a statement.
"The negative outlook reflects uncertainties surrounding the trajectory for growth, the policy response, and the consequences for Macao's fiscal and external buffers," it added.
While Macau's credit profile remains very strong in comparison with the majority of its rated sovereigns, Moody's expressed concern that the government's gaming-focused strategy leaves growth volatile.
It noted that Macau's economy, which highly dependent on the gaming sector, shrank 20.3 percent year-on-year in 2015, extending a 0.9 percent contraction in 2014. A decline in tourist arrivals from mainland China has created a ripple effect in Macau's gaming sector, which accounts for 58.3 percent of the city state's economic output at current producer's price.
The ratings agency also expressed concern over Macau's falling fiscal and current account surpluses. It noted that the current account surplus of Macau dwindled to an estimated 20.8 percent of GDP in 2015 from 38 percent in 2014, while the government's central account fiscal surplus dropped to 7.9 percent of GDP from 20.4 percent.
"Our expectation of a decrease in gaming revenues this year and next suggests that Macao's economic, fiscal and external metrics will likely weaken considerably from prior robust trends. This puts overall sovereign credit risk at levels more consistent with an Aa3 rating," Moody's said. "We expect the economy will continue to contract during 2016 and 2017, although the pace of decline may ease."
Early this week, Macau government announced that it is rebranding itself as a world-class, tourist destination that will rival other popular city destinations around the world such as Paris, Singapore, London, and HongKong in a bid to diversify its economy.
Moody's, however, believes that the government's plan to broaden Macau's gaming and tourism market makes its economic growth "volatile and susceptible to shifts in external demand."
"The government has expressed plans to diversify the economic base. But these are at an early stage of development, centering primarily around the execution of existing infrastructure efforts and on vertical diversification within the tourism sector itself," Moody's pointed out. "Lacking a track record of implementing such reform, there is a risk that these measures will not stem the deceleration in growth in the near-term nor diversify the economy over the medium-term."
The debt watcher doesn't see Macau's credit rating to be upgraded anytime soon but its negative outlook may change should there be proof of growth recovery over the medium term and if fiscal and external buffers are likely to remain intact.