17th May 2016, London (Press Release) – The iGaming Super Show is pleased to announce that Marcus Tandler will be the keynote speaker at the Player Acquisition Strategies conference taking place on Thursday 9th June.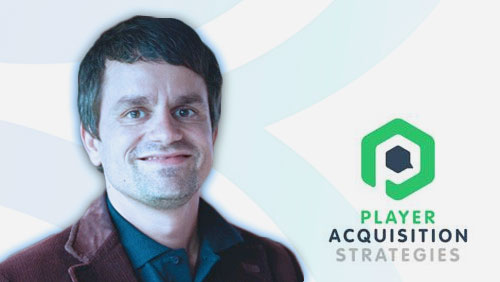 Marcus Tandler wowed TEDx attendees in Munich when he described the highly complex future of web search in an elegantly simple flurry of slides that created a film-like strip of imagery conveying his incredible vision.
Marcus will be speaking in "The future of search and SEO" keynote session taking place on Thursday 9th June 2016 at 12:00 in conference room 3.
As an iGX speaker, Tandler will provide a brand-new, updated version of his vision to an industry that competes in the SERPs at the very highest level. The future of search and SEO will be presented in a unique, easy to understand but hard to forget presentation that will leave you breathless.
Alex Pratt, Managing Director of iGaming Business, said "Marcus' talk in Munich was one of the most memorable sessions from the TEDx conference. We are delighted to have a speaker of his calibre at Player Acquisitions Strategies and the iGaming Super Show. This session highlights the growth of the conference over the last few years and really spearheads the quality content that is on offer".
Marcus added "SEO is still one of the most powerful tools within the online marketing toolbox. The times have changed though – there are no shortcuts anymore, it's really about solid SEO craftsmanship these days, continuously improving your website's quality to achieve sustainable results. The goal is to make your users happy, always aiming to be the best possible result."
Player Acquisition Strategies 2016 will be held on the 9th June 2016 at the RAI Exhibition and Convention Centre in Amsterdam as part of the iGaming Super Show.
"The future of search and SEO" keynote session with Marcus Tandler will be one of the most popular sessions at the show. To see the session you need to be a Player Acquisition Strategies ticket holder. A conference ticket will cost just £499; you can book your tickets here: http://ow.ly/W0PK300hqdk
For Press Queries contact:
Tracey Daniel
iGaming Business
[email protected]
+44 (0) 20 7384 7927
About iGaming Business
iGaming Business is the most established and respected information provider for the interactive gaming and gambling industry. Now entering our 14th year of business we provide the latest news, analysis, research, data and insight to senior level executives in the iGaming space.
We take pride in the fact that our editorial and content is written for the reader and not the advertiser. By taking a strict editorial stance and having industry experts contribute to our magazine and online content; we give you the tools and resources to improve your business performance.
About iGaming Super Show 2016
The iGaming Super Show is the biggest dedicated iGaming exhibition and conference for the iGaming industry and is guaranteed to meet your needs from a networking, education and business perspective. In 2016 we are expecting over 4,500 delegates, 100+ speakers and over 120 stands. The 2016 iGaming Super Show will have eight events in one location including dedicated payments, player acquisition, regulation and compliance, sports betting, binary/financial and affiliate events.