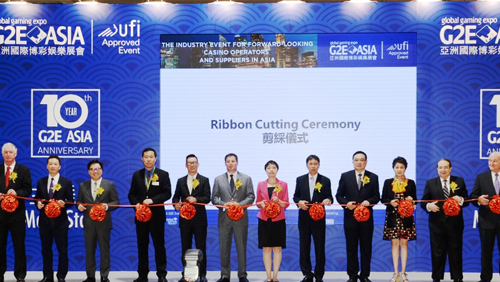 World-class speakers, powerful conference, extensive government engagement and diverse networking activities amongst numerous highlights at Asia's leading gaming industry event
Macau – May 17, 2016 – Today, the opening day of its 10th anniversary edition, G2E Asia 2016, Asia's leading trade show and conference for the gaming and entertainment industry, will solidify its reputation for convening the most significant stakeholders in the region.  The event is set to open in grand style with stakeholders from government, gaming and tourism highlighting the broad support the expo has garnered from the public and private sectors over 10 years of consistent achievement.
Leaders of Government, Industry and Diplomatic Community Show Support to Expo
The G2E Asia 2016 Opening Ceremony will feature a gathering of dignitaries from local government and business organizations as well as the international gaming industry, including Mr. Kou Ming; Duputy director of Economic Affairs Department, Liaison Office of the Central People's Government in Macau SAR; Ms. Liu Yu, Director of Policy Research Department, the Ministry of Foreign Affairs of the People's Republic of China in the Macao Special Administrative Region; Mr. Cheong Chu Weng, President, Macao Trade and Investment Promotion Institute; Mr. Paul Chan, Director, Gaming Inspection and Coordination Bureau. Macao S.A.R.;  Mr. Ho Hoi Ming; President of Board of Directors,  Macao Convention & Exhibition Association; Ms. Angela Leong, Executive Director of SJM Holdings Limited; Mr. Wilfred Y. W. Wong GBS, JP, President & Chief Operating Officer, Sands China Ltd. ; Dr. Jorge Neto Valente, Group Advisor of Galaxy Entertainment Group and managing director of Galaxy casino S.A.; Mr. Ted Chan, Chief Operating Officer, Melco Crown Entertainment Limited; Mr. Charlie Ward, Executive Vice President of Casino Operations, Wynn Macau Limited; Mr. Brian Fiddis, Senior Vice President of Casino Marketing & Business Development, MGM; Mr. Marcus Prater, Executive Director, Association with Gaming Equipment Manufacturers
G2E Asia 2016 to Scale New Heights
The event will kick off with 180 exhibitors, representing a 12 percent increase from the previous year, with over 40% as newcomers and 80% from overseas across more than 9,200 square meters of exhibition space. It will also welcome more than 800 VIPs and buyers, more than 400 conference delegates, in addition to over 9,000 visitors from all major gaming operators and regulators in Asia and beyond.
The G2E Asia show floor also features a fast-growing iGaming Zone which has more than double the number of exhibitors in 2015.  Over 65% of these are new companies.  The Zone gives the growing iGaming community direct market access and a networking platform with over 50 iGaming exhibitors showcasing their latest solutions and products from Asia and abroad.
Highlights across the three-day G2E Asia 2016 expo include:
An All-Inclusive Overview of Asian Gaming at G2E Asia Conference
The concurrently running G2E Asia Conference is featuring more high-level industry leaders and influencers than ever before. Commenting at the start of the opening day, Josephine Lee, Executive Vice President of Reed Exhibitions Greater China, said: "Thanks to our line-up of world-class speakers and contributors, the day will be rich in content for delegates, who've travelled from all corners of the globe, including Asia, Europe and the US to join us here. The insights set to be shared by speakers, analysts and pioneers in the gaming industry will be invaluable, highlighting the fact that this platform is the right one for industry professionals looking to understand development trends, identify exciting business opportunities and network with peers."
With Day 1 to be devoted to getting a comprehensive and up-to-date view of the gaming markets in Asia and worldwide, Aaron Fischer, a Chartered Financial Analyst and Head of Consumer & Gaming Research at brokerage and investment group CLSA will deliver a highly anticipated assessment titled "Asian Gaming Market Outlook".
On Day 2, Mr. Paulo Martins Chan, Director of The Gaming Inspection and Coordination Bureau (DICJ), Macao SAR will turn its attention to assessing opportunities within the markets.  Mr. Chan will deliver an Opening Remarks "Transformation in Changing Conditions".
The third and final conference day will be devoted to the iGaming Summit, looking at the market opportunities in fast-emerging fields like eSports, while learning what is at the cutting edge of mobile and social casino trends today.
Adding some scholarly insight, and based heavily on government inputs is the Gaming Management Certificate Program, which will focus on compliance and regulation. The full-day course will give participants the chance to fully inform themselves with accurate and up-to-date information that will allow them to pursue regulatory compliance in their operations, through five sessions: "The State of Gaming Regulation in Asia: Challenges and Opportunities", "Regulation of VIP Play", "Best Practices: Anti- Money Laundering", "Integrity of Games" and "Best Practices: Responsible Gaming and Social Safeguards".
Commendation, Education & Regulation Amongst New Highlights at G2E Asia 2016
More highlights shall include this evening's inaugural Asia Gaming Awards (AGAwards), an independent, transparent and representative event that recognizes significant achievements within the Asian gaming industry. The AGAwards, produced by Asia Gaming Brief in association with G2E Asia and The Innovation Group, celebrate operators, regulators, suppliers, and service providers for outstanding contributions in online and land-based fields. In addition, the AGAwards will select a number of best-in-class young gaming executives from Asia with potential to shape the industry in the coming years. Tonight, a ceremony to be attended by the top tier of the gaming industry will be held to honor the best and the brightest in gaming across the following categories:
Best Casino Operator
Best Integrated Resort
Best Casino Design
Best Table Games Manufacturer
Best Electronic Game Machine Manufacturer
Best Industry Supplier
Best Online Service
Best Online Supplier
Best Mobile Solution
Outstanding Contribution in the Field of Innovation
Special Recognition of Young Industry Leaders under 40
The 1st Gaming Regulators Networking Luncheon has been added to this year's activity-filled agenda,  to provide a platform for gaming professionals to share ideas on how to enhance the development of the inudstry. The networking platform will give regulators a chance to exhange views, share updates and explore co-operation opportunities, at a time when the gaming market in Asia remains fast changing and rapidly growing.
The second day of G2E Asia 2016 promises to deliver even more insights into the many new gaming industry developments in the region as well as presenting exciting opportunities for gaming industry professionals to find business prospects, network with peers and share insights on the future of Asian Gaming.
The Asia Lottery Forum also makes a much-anticipated return to the G2E Asia show floor this year.  This is an unrivalled opportunity for over 300 local and international lottery industry experts and operators to network and discuss the latest industry developments in the internet era.
Visit G2E Asia 2016 and register on arrival at Venetian Macao tomorrow to take part. For more information, please visit www.g2easia.com.
ABOUT G2E ASIA
G2E Asia is the international gaming trade show and conference for the Asian gaming industry. Organized by the American Gaming Association (AGA) and Reed Exhibition, G2E Asia made its debut in 2007, defining itself as the preeminent show for the Asian gaming-entertainment industry.
About the American Gaming Association
The American Gaming Association is the premier national trade group representing the $240 billion U.S. casino industry, which supports 1.7 million jobs in 40 states.  AGA members include commercial and tribal casino operators, suppliers and other entities affiliated with the gaming industry.  It is the mission of the AGA to be the single most effective champion of the industry, relentlessly protecting against harmful and often misinformed public policies, and paving a path for growth, innovation and reinvestment.
About Reed Exhibitions
Reed Exhibitions is the world's leading events organizer, with over 500 events in 43 countries. In 2014 Reed brought together over seven million event participants from around the world generating billions of dollars in business. Today Reed events are held throughout the Americas, Europe, the Middle East, Asia Pacific and Africa and organized by 41 fully staffed offices. Reed Exhibitions serves 43 industry sectors with trade and consumer events. It is part of the RELX Group plc, a world-leading provider of information solutions for professional customers across industries.