Think slot machines and poker are the only casino games changing and evolving with the times? Think again. Bingo's popularity has been on a massive uptick for the last couple of years, pulling in tens of thousands of new players and appealing to a whole new demographic, one far younger than the average bingo player's age would have been just 10 years ago. To help keep track of the trends, Wink Bingo has developed a new daily-updating resource containing everything you need to know about the bingo world. Welcome to the 24hr Online Bingo Dashboard.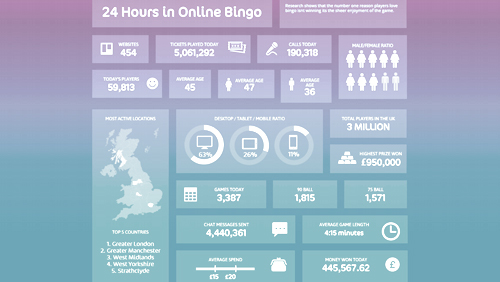 The bingo dashboard is a live reactive bingo aggregator that tracks and monitors industry stats from over half a dozen different web portals. Using the bingo dashboard, players can see at a glance how many bingo games have been played throughout the world, the total number of active players, how much prize money is being won, and much more.
Information Straight from the Source
So where does all the live reporting come from? The bingo dashboard is partnered with many of the top bingo review and information websites including Bingo Reviewer, Bingo Trivia, Gambling Commission, Who Plays Bingo and Bingo.org.
The #1 Source for Bingo Stats
The bingo dashboard covers a diverse variety of bingo statistics and topics including:
– # of Active Online Bingo Providers
– # of Games Played in a 24hr Period
– # of Tickets Played in a 24hr Period
– # of Daily Players
– Average Median Player Age
– Ratio of Male to Female Players
– Most Popular Gaming Devices (Computer, Tablet, Phone, etc.)
– Biggest Prize Won in a 24hr Period
– Average Game Length
– Total Prize Money Won Amongst All Players
– Daily Bingo Trivia
Learning from the Dashboard
Even though it has just launched, the bingo dashboard has provided amazing insights into the bingo industry, showcasing some very interesting trends and information. Here are some of most revealing statistics pulled from a single 24hr global session this week:
Players Are Using Millions of Cards Daily
With over 13,500,000 tickets played by more than 160,000 players across 454 active websites, the amount of daily bingo sessions is simply staggering.
Female Players Made Up 80% of the Player Base
Astonishingly, 8 out of every 10 bingo players during our sample session was female, with male players representing just 20% of the active bingo community. Also surprisingly, the average age of each group was 47 for females and 36 for males. Considering that a decade ago bingo was widely perceived as a gambling game for the retirement demographic, these stats show a dramatic decline in the age of the modern player.
The Majority of Games Are Played on the Computer
Throughout a single 24hr session, over 63% of all the bingo games played globally were via a computer, more than all smart mobile devices combined. Tablets came in second with 26% of the player base, with smartphones in third with 11%. However, industry experts expect this to change markedly by 2020, as more and more gamblers begin to move away from sitting at their computers and picking up a smart device for most of their online activities, including gambling.
90 Ball is the Most Popular Bingo Game
Even though 75 Ball may be the preferred bingo format in many parts of the world, the overwhelming popularity of 90 Ball in other regions, including the UK, helped it become the most played bingo game in a 24hr period. More than 4,800 games of 90 Ball were played during that timeframe, compared to 4,100 games of 75 Ball. The average game length clocked in at 4:15 minutes.
Thanks to Wink Bingo and the bingo dashboard, there is nothing left to the imagination regarding the bright future of the bingo community. With numbers in nearly all categories expected to rise throughout 2016, it will be interesting to see what the dashboard looks like a year from now. To follow the stats for yourself in real time, visit the 24hr online bingo dashboard over at Wink Bingo.