PokerStars is retiring Full Tilt Poker but will keep it for itself.
Amaya Gaming, PokerStars' parent company, announced its decision to merge Full Tilt Poker players onto the PokerStars platform earlier this week, to boost liquidity, streamline development and improve the overall player experience.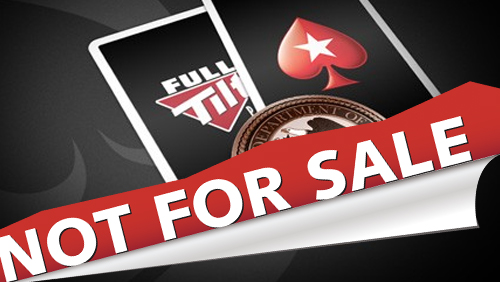 The announcement wasn't a big surprise as Full Tilt, which used to be runner-up behind PokerStars in online poker liquidity, has sagged to 11th on PokerScout.com's traffic report.
Full Tilt became a weakness for Amaya and the operator had to find a way to cut it loose.
But the news left many speculating as to what Amaya would do with the redundant platform once the migration was complete sometime this spring.
So here's what Amaya has in mind.
After the merger, Full Tilt software will be officially retired and will operate as a "skin" on the PokerStars network, reported Poker Industry PRO.  Meaning, it would retain its branding and design but the software will be the same as PokerStars.
Full Tilt will also share PokerStars' rake, VIP programs, and software features and the players will have a unified account that can be used to log in to both online poker rooms.
Real money and play chips games will share liquidity with PokerStars' global online poker network.
Amaya is also planning to keep the Full Tilt Online Poker Series but it will only be available to players on the Full Tilt skin. The 29th FTOPS will be held on February 29 and it will be the last time that the players will use Full Tilt's software.
Branding of the fast-fold Rush Poker will also remain on Full Tilt, but will share player pools with Zoom while the Full Tilt avatars will continue to be an exclusive feature on the FTP brand but will be visible on the PokerStars client.
Full Tilt's Managing Director Dominic Mansour will remain with the company to supervise the transition and will assume a new role in the future. The majority of staff will be moved to other roles in IT department.
And for its rival companies thinking of buying the platform, sorry, but Amaya confirmed that it's not for sale.
Comments