Unibet's foray into UK's red hot waters begins on Friday when the Unibet UK Poker Tour pops up at the Rendezvous Casino in Brighton Marina.
There is a light air of optimism around Unibet towers these days. Gross winnings revenue for the 2015 calendar year climbed 13% to £354.1 million, and profit after tax reached £69.7 million. The only area with a must do better stamp is poker; gross winnings revenue dropped from £8.4 million in 2014 to £7.6 million.
One way that Unibet aims to try and fix that minor disturbance of par excellence is to spread more love around the UK market and what better way to do that than to create a UK Poker Tour..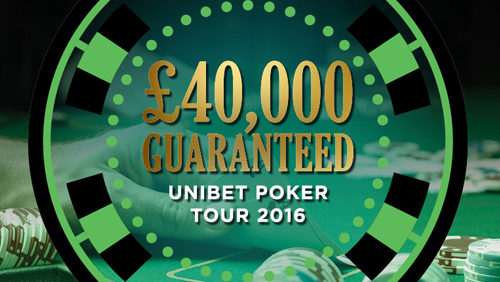 On Friday, the brand spanking new Unibet UK Poker Tour will be unwrapped in the Rendezvous Casino in Brighton's trendy Marina district. It could not have picked a better spot, assuming Storm Imogen hasn't dragged the city into the sea by the time poker players start arriving en masse.
The action began on 7 Feb with a planned eight side events. Day 1A of the £200+£20 buy-in Main Event begins 7 pm on Fri 12 Feb. Day 1B starts 1 pm Sat 13 Feb. Those fortunate to get to the final day will have to upset their loved ones. The action kicks off at 7pm Sun 14 Feb.
The Main Event includes the re-entry clause. Players can re-enter once on Day 1A, or Day 1B. You can even play both days and take the largest stack through to the final day. Unibet aren't doing this alone. The tour runs in partnership with Caesars Entertainment UK. The couple will guarantee £40,000 in prize money for the event.
Looking at the bigger picture there will be £200,000 in guaranteed prize money spread through the season.
Here are the other tour dates.
• Alea Casino in Nottingham 15-17 Apr
• Rendezvous Casino Brighton 3-5 Jun
• Alea Casino Glasgow 7-9 Oct
• Manchester 235 2-4 Dec
The winners of each Main Event, and the satelitte qualifier who lasts the longest, will each receive a €2,000 Unibet Open package at an event of their choosing.
At present those choices stand as follows:
• London 3-6 Mar
• Malta 26-29 May
• Copenhagen 25-28 Aug
The Unibet Open is quite unlike anything else that exists in the European tournament poker scene right now. They will be hoping that their newborn UK Poker Tour will create the same positive footprint.
I am sure it will.
Comments