Internet Poker Wall of Fame creators Adam Schwartz and Terrence Chan have announced three more additions to their unique club including online cash king Phil Galfond, online multi-tournament specialist Shaun Deeb, and payment processor Neteller.
Sucked off with the way the Poker Hall of Fame was run, Adam Schwartz and Terrence Chan decided to do something about it. They launched the Internet Poker Wall of Fame (IPWOF).
The duo launched the club in August. The wall needed some mugshots sharpish. They announced plans to announce at least one person weekly on the Twoplustwo Pokercast. This week that number rose to 11.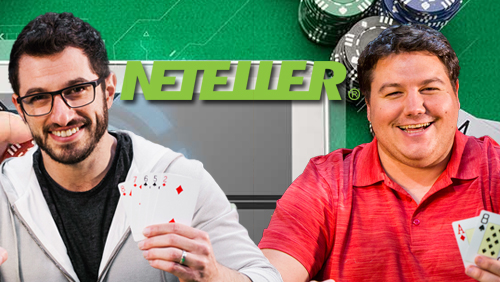 The rules are pretty simple.
"The person must have played at least one hand of poker on the Internet."
I think they might have to change that rule after one of the three newest members failed to meet that criteria.
Phil Galfond's inclusion into the IPWOF is a no brainer. Playing as MrSweets28 on PokerStars, and OMGClayAiken on Full Tilt, Galfond has earned close to $7.9m in cash game profits.
Playing as MrSweets28, Galfond has played 442,409 hands and amassed a $1,282,879 profit. In Nov 2012 that peaked at $2.4m. But it's his exploits at Full Tilt that really got people talking. Playing as OMGClayAiken he has played 645,553 hands and made a $6,599,839 profit. He is currently on a downswing. In May 2013, he had reached $10m in profit.
Galfond is also one of the most respected coaches in the game. He started out life working for Bluefire Poker before departing acrimoniously to set up his own coaching outfit called RunItOnce. It's now arguably the most successful online training business in the world.
Galfond was also touted as the man to replace Daniel Negreanu as an ambassador of poker by the man himself. Jason Somerville seems to have taken that mantle of late, however, Galfond's views on anything poker or otherwise always commands respect.
Shaun 'shaundeeb' Deeb is one of the most proficient poker players in the world. It doesn't matter what derivative is being played, Deeb is a master at it. He has earned $6,256,018 playing online multi-table tournaments (MTTs) under the names 'shaundeeb' and 'tedsfishfry'. He is a former PocketFives world number one. He has won five World Championships of Online Poker (WCOOP) titles, and three Spring Championships of Online Poker (SCOOP) titles on PokerStars. He also topped the PokerStars Tournament Leaderboard on consecutive years 2007 & 2008.
The final incumbent is not a poker player at all. In fact, payment processor Neteller is the first non-sentient being to be awarded a position on the wall.
Only people who remember the days before instant payment processing will truly respect this decision. At one time in history the payment-processing giant was handling 80% of the money being herded around the global gambling community.
Things changed in 2007 when the US Department of Justice shut them down, but they have recently made a quiet return to the US as online gambling starts to lay down some new roots.
The Internet Poker Wall of Fame
1st. Isai Scheinberg
2nd. Prahlad Friedman
3rd. Dominik Kofert
4th. Chris Moorman
5th. Randy Blumer
6th. Jim Moran Jr.
7th. Chris Moneymaker
8th. Pat Isaac
9th. Phil Galfond
10th. Shaun Deeb
11th. Neteller
So that's the opinion of the crew over at 2+2.
What's yours?