In the past we've done the MGM indicator and extended it into boxing with Mayweather Pacquiao. The MGM indicator turns green when visitor volume there increases. It generally means that people have more money in their pockets to gamble with, and provides a decent proxy for how much people are willing to spend in the rest of the economy. MGM volume is up 2% over the last 9 months, so we're not in any bust phase yet. While the cue won't give investors any workable clues as to when and when not to buy MGM specifically, it does seem to work for the rest of the economy.
The last time the MGM indicator went green was in November of 2014. MGM itself hasn't done much since then in terms of its stock price, and neither has the US stock market in general, but the economy does continue to trudge slowly forward with unemployment continuing to step down. There may be another important proxy indicator in the Super Bowl, and what direction it moves in this year could say a lot about where we are headed in 2016 and 2017.
The LA Times had a telling piece out yesterday plotting regulated Las Vegas betting on Super Bowls since 2003. Here's the chart: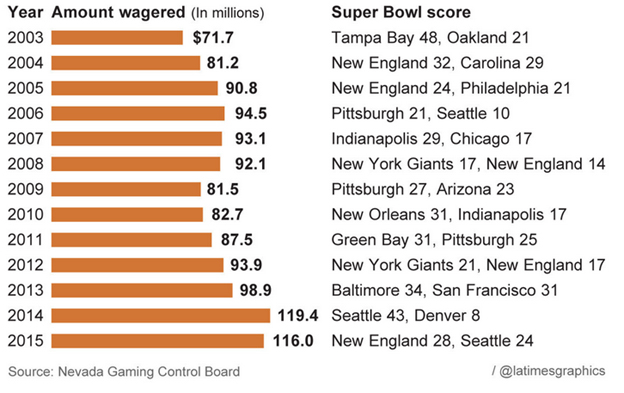 There are three notable things about the data here. First, we saw a peak in regulated Super Bowl betting in 2006, the same year the housing market topped. Second, after that the numbers dragged down slowly through 2008, and 2009 was the huge drop off, for obvious reasons. Then there was a big boom in 2014 followed by the first drop in regulated Super Bowl betting volume since 2008. The last time that happened we were two and a half years away from a major recession, so the numbers could be quite telling this year.  Considering the size of the boom though from 2013 to 2014, last year's drop could simply be noise from any number of factors, but if the drop continues it could mean trouble.
Betfirm has an even more extensive list going back to 1991, back when the Buffalo Bills began their four year Super Bowl run and missed that field goal at the end to fall to the Giants, probably the team with the most improbable Super Bowl victories of any NFL franchise.
In that list we see again how there was a peak in betting volumes on the game two years before a major crash and recession. It happened in 1998 when John Elway won his first Super Bowl for Denver over Green Bay. Volume peaked at $77.25 million, dropping all the way into 2001 which clocked in at $67.7 million for the Ravens/Giants game. By 2002 the recession was over and volumes jumped back up again. The 2000-2002 bear market didn't end until September of that year, which is generally when money supply growth starts to recover after typically faltering in the summer. Then again, as we have seen, Super Bowl betting volume surges up again from 2002 to 2006, two years before the next recession, same pattern.
There are two possible trading lessons here. First, when Super Bowl betting volume heads up after a major recession, buy stocks in September of that year. Second, if it heads down for two years in a row, you've got less than a year to get out.
As for total betting volume, one estimate by the American Gaming Association is that people will spend $4.2 billion betting on the game. The number sounds impressive, but it is really impossible to track given that most of the bets are under the table rather than through a Las Vegas bookie. The AGA's number is just a stab in the dark, so best not to use trends in under the table numbers to make investment decisions.
The casinos that stand to gain the most from the game are MGM, Las Vegas Sands, and Station Casinos judging by the number of sportsbooks they have operating in Las Vegas. There probably won't be any kind of tradable bump having to do with the game itself for these companies, but it is yet another reason to go long MGM now. As for Las Vegas Sands, no amount of Super Bowl bets are going to save it from Macau's doldrums.
The conclusion is that if betting volumes on next week's game drop substantially below $116 million, then if the pattern repeats as it did in 1998 and 2006, we have about ten months to a year until the next global financial brouhaha.
Model Portfolio Update
We are more or less break even on all tradable positions so far, including MGM, Penn, Eldorado Resorts, and Boyd. Continue to hold for now. As for long term holds, 888 and Rank are down around 1.5% each, but Paddy Power, our top holding, is still chugging higher for a 13.6% gain since January 19. NetEnt is down 3.7%. The original model portfolio can be found here.
Comments