Virtual Reality is set to change the gaming environment of the future after Virtuix became the first company to host an virtual reality eSports tournament at the recent Consumer
Electronics Show in Las Vegas.
"There is a shark! Look a shark!"
I wasn't playing poker.
I was sitting inside a Triton submersible. The submersible was exploring the Great Barrier Reef. I was sharing it with Sir David Attenborough. And while all of that is true in terms of my sensory experience, I was sat inside the Natural History Museum, in London, wearing Samsung Virtual Reality (VR) headgear.
It was an incredible experience. Sure, I can learn to dive, and then travel to Australia and experience the real thing, but there was a shark. Plus, I have first class rail travel, so it doesn't cost as much to pop down to London.
Four things crossed my mind during this unique experience.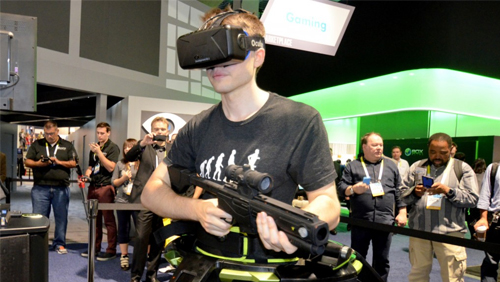 1. What a great way it would be to explore our universe.
2. When are we going to be having VR sex?
3. The way we play games is going to change radically.
4. Christmases are going to get expensive.
At the recent Consumer Electronics Show (CES) in Las Vegas point, three started to become a reality when VR game and equipment designer Virtuix held the first-ever eSports tournament.
Virtuix hooked up four of their Omni multi-directional treadmills into a multiplayer first-person shooter game called Omni Arena; slapped four HTC Vive headsets on a few happy gamers, armed them with replica guns and off they went.
Talking to Forbes about the future of VR, Jan Goetgeluk, CEO of Virtuix, made an excellent point drawing attention to the fact that VR eSports are not going to be for the faint hearted.
"Now players will need to be physically fit and trained in addition to being a strong gamer," Goetgeluk told Forbes, "The faster you run in the Omni, the faster you move in your chair."
An incredibly important point.
I write this after spending the past 90-minutes in the gym. I didn't enjoy any of it. I did it out of necessity. Imagine, being able to run around the Fallout 4 world, blasting away at a bunch of enemies. Now that's what I call enjoyable exercise.
Virtuix is serious about changing the face of eSports. They were snubbed, after appearing on a 2013 version of The Shark Tank. Unperturbed, they have since raised over $8.3m in funding to become one of the ten most successful tech Kickstarter campaigns ever. Shark Tank investor Mark Cuban later had a change of heart and ploughed some cash into the VR platform.
According to information provided by Forbes, the pace at which VR revenue will grow is snail-like, but it will grow. Total revenue for VR products is forecast to reach $3.8m by the end of the year, rising to $5.2m in 2018. It may be slow, but so was the Fridge, and when he hit you-you knew about it.