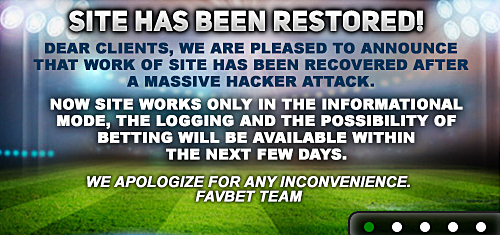 Eastern European online bookmaker Favbet says a competitor was behind an online attack on the company's website over the Christmas holiday.
On Christmas Day, Favbet customers received emails from the site informing them that unscheduled "maintenance" was responsible for their inability to access the site for the previous few days. However, the message offered no timeline for when this maintenance would end and the site remained offline for several more days.
In an interview with Russian betting affiliate Bookmakersrating.ru, Favbet COO Sergei Efimenko said the site came under attack by unknown hackers while the majority of the company's staff was celebrating the holidays at a corporate event.
Efimenko said that within hours of the attack's launch, the attackers had "destroyed not only the main, but the backup database." Efimenko said only a "well-built system of protection and resources" that were unknown to the attackers helped the site withstand the attack.
The hackers also hijacked the site's domain name and selectively redirected users to the home page of the Ukrainian Interior Ministry. Additionally, the hackers took control of Favbet's mail servers, which they used to issue "frankly boorish" messages.
Efimenko said Favbet customers shouldn't fear for their account balances or personal data, as the attackers didn't appear interested in thievery. Rather, the attack appeared "intended to undermine [Favbet's] business and infrastructure in general."
According to Efimenko, Favbet is convinced the attack was "planned long ago" because its scale "demanded huge resources to implement." This was no typical distributed denial of service (DDOS) attack, as Favbet received no blackmail request before the attack commenced.
Efimenko suggested Favbet had information that they weren't quite ready to publicly release which suggested "one of our highly acclaimed direct competitors in the CIS [Commonwealth of Independent States] market" as being behind the attack. Efimenko called it "very frustrating" to think that a rival bookie would engage in such a "dirty game" and inject "a lot of negativity into the already difficult job" of bookmaking.