Jamie Vardy creates a new Premier League goalscoring record after scoring in his 11th consecutive game at home to Man Utd; Diego Costa thinks throwing a training bib at Jose Mourinho will get him back into the side, and much more.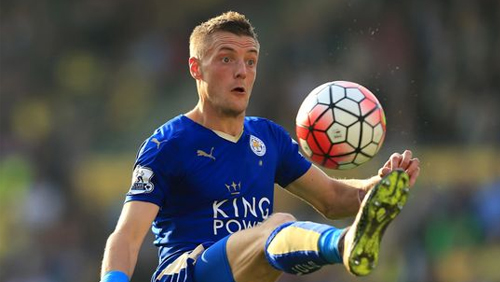 There is nothing very Machiavellian about the Leicester City approach. Soak up the pressure, allow their opponents to control the football, and then hit them on the break.
The Foxes style of football was summed up in a single flow that turned Jamie Vardy into a young man who makes headlines by shouting out racist remarks in casinos, to a Premier League record-breaker.
Christian Fuchs ran down the right flank, something that the turgid Matteo Darmian seems utterly incapable of, and thread the ball through the eye of a needle, for Jamie Vardy to leave Ashley Young in his wake and calmly slot the ball past the onrushing David De Gea.
It was Vardy's 14th goal of the season. More importantly, it was his 11th in consecutive Premier League games, and nobody has ever done that before. The goal ignited a lacklustre Leicester side, but a Bastian Schweinsteiger header just before half-time extinguished the flames and it was United's to win from that point on.
Both United and Leicester could have gone back to the top of the table with a win. Neither looked capable of it. United's problems are there for all to see. Wayne Rooney is not playing well. His captain's armband is keeping him in the team. The midfield trio of Schweinsteiger, Michael Carrick and Morgan Schneiderlin can only pass the ball sideways and backwards, and in Matteo Darmian and Ashley Young they have a pair of full backs who look like spontaneously combusting should they cross the halfway line. The game ended in a 1-1 draw, and Vardy was the man everyone wanted to speak to after the match. He has learned to score; now it's time he learned how to smile.
Man City took advantage of Leicester and United's failure to win by thrashing Southampton 3 v 1 at the Etihad to move back to the top of the table. It was a timely victory for City, after back-to-back defeats against Liverpool and Juventus, and it was the first loss on the road for Ronald Koeman's men.
Mistakes cost you dearly in the Premier League, and it was Southampton's Maya Yoshida that made an early one to let in Raheem Sterling. A pinpoint pass across the box and Kevin De Bruyne was on hand to tap the ball into the back of the net in the 9th minute. Fabian Delph started for the first time since his £8m move from Aston Villa, and he marked his debut with a deflected goal in the 20th minute. Shane Long, in for the suspended Graziano Pelle, rose above the City defence to make it 2 – 1 in the 49th minute, but an Aleksandr Kolarov goal, against the run of play, ensured all three points would go to the Blues.
Arsenal continues living life the Arsenal way.
They stormed to second in the table with a series of impressive results. They destroyed Bayern Munich in Europe and did likewise to Man Utd in the league. Arsenal fans were getting excited. Then they reverted to type. They didn't capitalise. They drift back to where they naturally belong – hunting for a Champions League place.
They lost away to West Brom, and now they have drawn away at Norwich. That's not good enough. The players have also reverted to type. Are they made of China? One little tap and they break. Santi Cazorla, Laurent Koscielny, and more worryingly, Alexis Sanchez join a long line of Arsenal players on the sidelines. It happens year in year out.
Why?
Norwich came into this game winning only once in their last six. They will be delighted to have taken a point. Arsenal started brightly. Their football was intricate and impressive. Sanchez capitalising on a mistake by John Ruddy to slide the ball through to Mesut Ozil. The German chipping the ball over the keeper to put his side 1-0 ahead. He has been involved in 13 goals in Arsenal's last 12 games (11 assists and 2 goals). That's not bad for a player who continually gets stick for 'not doing enough'.
Norwich kept at it. Arsenal looked past it. Lewis Grabban scoring his first goal of the season to bring Norwich level in the 43rd minute. Perhaps, now he will shave that ridiculous beard off. Norwich could have won it as well if it wasn't for the save of the season by the evergreen Peter Cech.
Liverpool continued their steady rise in the table with a 1-0 victory over struggling Swansea. Jurgen Klopp has made a difference, and with Jordan Henderson and Daniel Sturridge both coming off the bench to make an appearance after injury, things seem bright at Anfield. The same cannot be said for the Swans. Only Bournemouth and Aston Villa have worse recent form than the Welsh side. Garry Monk told the press that he had the backing of the board. Let's hope they give him the time he deserves. The only goal of the game came from the penalty spot after Jordan Ibe walloped the ball against the arm of Neil Taylor. It was never an intentional handball, but that's how things go for you when you are on a run of despair and disdain. Liverpool captain James Milner duly stepped up and sent it into the roof of the net. He has not netted five of his last six penalties.
Bournemouth and Everton played out the game of the day at Dean Court. It was a six-goal thriller with the two latest goals of the season both reserved for this particular occasion. Ramiro Funes Mori was making a rare Everton start, and he scored his first goal with a thundering header from a corner in the 25th minute. Romelu Lukaku made it 2-0 in the 36th minute, and Everton were cantering. It was Lukaku's 10th Premier League goal of the season and his 8th in 8 games.
Then came the comeback.
Adam Smith scored a wonder strike with his right foot in the 80th minute, and Junior Stanislas sent the 11,000 fans into rapture when he equalised in the 87th minute after some great work by Josh King. The fourth official held up the clock. There would be five minutes of injury time. Ross Barkley found himself in the box in the fifth minute to give Everton a 3-2 lead. It was another case of poor, unfortunate Bournemouth. The referee told the Bournemouth players that it was all over, and then somehow, two more minutes went by before Stanislas smashed the ball home to equalise for Bournemouth. Is this the turning point for Eddie Howe's men? Let's hope so, and for Everton, they will be disappointed not to pick up three points, but they look a match for anyone in the final third at the moment.
Remi Garde continues to learn how tough his job is at Villa Park after his team conceded another three goals, this time at home to Watford. They have now conceded 27 times and have lost 11 of their 14 league games. Only Bournemouth and Newcastle have conceded more. Odion Ighalo scored a pinball penalty box goal in the 17th minute. The Watford striking sensation has now scored eight times in the league. Villa captain Micah Richards scored with a header in the 41st minute to equalise before halftime. The emotion around the stadium and in the face of Richards was palpable. Even the usually rigid Garde looked ecstatic on the bench.
Then it went tits up.
Alan Hutton sliced the ball into the back of his net in a desperate bid to stop Ighalo from scoring his second, and former Villa schoolboy Troy Deeney made it 3-1 when he rose higher than anybody else in the Villa box in the 85th minute. Jordan Ayew's swivel and shot in the 89th minute proving scant consolation for a side already considering life in the Championship.
If Villa do, drop out of the top flight, who will join them?
On current form, it's odds on that one of those teams will be Newcastle. At the start of the game, a bald eagle was paraded around the pitch at Selhurst Park and you couldn't help thinking that a magpie wouldn't stand much of a chance in a fight to the death with that thing. It proved the same on the pitch.
Crystal Palace destroyed them.
All seemed well for Steve McClaren's team as Papiss Cisse headed Newcastle ahead in the 10th minute. But that goal seemed to set a fire under the ass of Alan Pardew's men.
The one thing you can say about Palace is they have pace. Yannick Bolasie and Wilfried Zaha blew the feathers of the magpies. They were left naked, exposed and looked positively ridiculous. James McCarthur helped himself to two goals; Bolasie did likewise and Zaha volleyed one in as Palace stormed back into Champions League contention with a 5-1 hammering.
"It's not about systems and tactics, it's about attitude and fight," said McClaren after the game.
Unfortunately, he's paid to instil those values in those players, or at least figure out how to drag them out. He is failing on both accounts, and it will likely lead to his head placed on the type of block you don't want to be on.
There was a time when soggy Sunderland were also odds on to go down. Then they hired Big Sam. The man teams employ when they need to be dragged out of the shit. It's working.
Sunderland has now secured back-to-back wins after a 2-0 victory over Stoke City. The sending off of Ryan Shawcross helped considerably. Patrick van Aanholt thundering home a free kick in the 82nd minute, and young Duncan Watmore making sure all three points were theirs with a great strike six minutes from time.
West Ham continued their stuttering run of form with a 1-1 draw at home to West Brom. For long periods of the game, West Brom were second best, and it looked like an easy win after Mauro Zarate converted a beautiful free kick in the 17th minute. But West Brom is made of sterner stuff these days, and they equalised in the 50th minute. Remember, Rickie Lambert, the striker who scored goals for fun at Southampton, scored for England and was then sold to Liverpool where he remained on the bench for a year? Well, he came off that bench to score that fortuitous equaliser. It took an enormous defelction, and will go down as an own goal, but Lambert will want to own it that's for sure.
We always end the round up with a drab goalless draw and this week that title belongs to the game that everyone was hoping would be the tie of the week. Last season this tie produced eight goals in a 5-3 win for Spurs. This week there were none. The only talking point was the idiotic and childish Diego Costa being dropped to the bench and then thinking it would be a good idea to throw his training bib at his manager. A think the lad may find himself on the bench in the next game as well.
Week 14 Results
Bournemouth 3 v 3 Everton
Aston Villa 2 v 3 Watford
Sunderland 2 v 0 Stoke
Crystal Palace 5 v 1 Newcastle
Man City 3 v 1 Southampton
Leicester 1 v 1 Man Utd
Spurs 0 v 0 Chelsea
West Ham 1 v 1 West Brom
Liverpool 1 v 0 Swansea
Norwich 1 v 1 Arsenal
Premier League Standings (After 14 Games)
1st. Man City – 29 pts.
2nd. Leicester – 29 pts.
3rd. Man Utd – 28 pts.
4th. Arsenal – 27 pts.
5th. Spurs – 25 pts.
6th. Liverpool – 23 pts.
7th. Crystal Palace – 22 pts.
8th. West Ham – 22 pts.
9th. Everton – 21 pts.
10th. Southampton – 20 pts.
11th. Watford – 19 pts.
12th. Stoke – 19 pts.
13th. West Brom- 18 pts.
14th. Chelsea – 15 pts.
15th. Swansea – 14 pts.
16th. Norwich – 13 pts.
17th. Sunderland – 12 pts.
18th. Bournemouth – 10 pts.
19th. Newcastle – 10 pts.
20th. Aston Villa – 5 pts.
Comments