As Nigel Benn (51yo) and Chris Eubank (49yo) contemplate a third fight that will net the pair £10 million each, Lee Davy gives his view on why he believes the pair should stick to appearances in the jungle.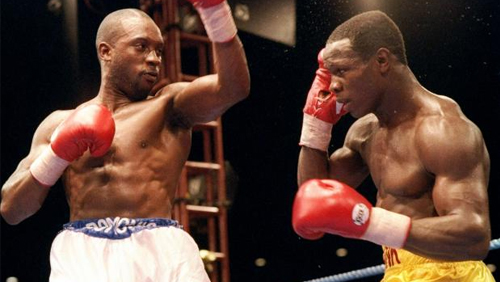 It was the warmth that made me realise my uncouth little buddy was pissing down the back of my leg. I turned to face him. He was holding his dick in one hand and a plastic pint full of piss in the other. He had this beguiling look on his face. I was more worried that some of the piss would splatter onto Jason Dozzell. The Spurs midfielder was standing next to me. Those were the days before selfies. He had just signed the back of my ticket, and now my mate was dangerously close to turning his white chinos a nasty shade of yellow.
We were three rows back from the ring. There were over 40,000 lunatics crammed into Old Trafford to watch Nigel Benn v Chris Eubank 2. They billed the fight as 'Judgement Day'. 12-pints of Boddington's later and for me it was slowly turning into "Won't Remember Anything of it Day."
Benn and Eubank hated each other. You don't get that kind of venom in boxing today. There's a lot of bravado, a lot of bollocks. It was the real thing. Eubank is currently appearing I'm a Celebrity, Benn appeared in 2002. A few days ago Eubank said of Benn, "I am not really competitive. I can easily always walk away, and then I come to Nigel Benn, the bad blood between us is fierce. So I am not competitive, only with him."
Benn, who won his first 22 fights by way of knockout, was known as the 'Dark Destroyer', and Chris Eubank was called 'Simply The Best'. They were behemoths amongst behemoths. When they were at their prime so were Steve Collins, Michael Watson and Gerald McClellan. Their battles were legendary. Both Watson and McClellan suffered severe brain injuries at the hands of both Eubank and Benn.
Eubank won the first fight when the referee stopped it five seconds from the end of the ninth round. It was a defeat that Benn found difficult to stomach. Three years later and here I was getting pissed on as I prepared to watch the only boxing match of my life.
The tie ended in a draw.
Normally, in boxing matches this is a very dour experience, but not this one. It was another classic. I will always remember the final round. They battered each other. Both fighters not only wanting to win but to seriously hurt the other. You don't get fights like that anymore.
Both fighters are well into their retirement, but a war of words has broken out between the pair, which could result in Nigel Benn v Chris Eubank 3. The money on offer seems to be £20m, with a clean 50-50 split handing each fighter £10m apiece.
Good luck @chriseubank hope you do well in the Jungle Mate, when you get out let's get it on with the fight #boxing #BennVEubank

— Nigel Benn (@NigelGBenn) November 28, 2015
It's a fight that seems likely to go ahead. Eubank is appearing in 'I'm a Celebrity!', and one doubts he is doing that because he is chalking things off his bucket list. £10m is a lot of money. Eubank's attire is very expensive.
The fans will pay to watch it, and I will be amongst them, but I already feel robbed. The boxing ring used to be the one place where sport got real brutal. That doesn't happen these days. Fighters are smarter, more skilful, and they have a game plan. £10m is a lot of money, and it's easier to collect that money after you have cruised through 12-rounds.
Both Benn and Eubank know what it's like to effectively end people's lives. As they lean into the second halves of their time on earth, they will be only too aware of the frailty of existence, and getting beaten to a pulp is surely not in the gameplan.
If this fight went ahead, I would buy a ticket. I'm nostalgic. I can't remember much about the second fight. I am a fan of big headline sporting events. But deep down, I know it will be a waste of money. It will go the distance. There will be handbags at 10-paces. There will be more hugging than at Burning Man. And slowly, over those 12-rounds, the world of boxing will lose respect for two of the greatest pugilists ever to lace up a pair of boxing gloves.