October 2015; Kyiv, Ukraine. Game ON Conference opened today featuring nine presentations by leading international experts and captains of the gambling industry. Discussions at the Conference laid the foundation for further discussions between the state officials and gaming experts on bringing gambling back to Ukraine in a measured and transparent way.
The Conference opened with a salient recap by Glyn Thomas, organiser of the Game ON initiative, of the circumstances that led to a ban of all gambling activities in Ukraine over five years ago, and the consequences of that abrupt prohibition which are felt to this day. Mr. Thomas also introduced Olena Makeieva, a Deputy Minister and her colleagues from the Ministry of Finance of Ukraine, who were attending the Conference as observers.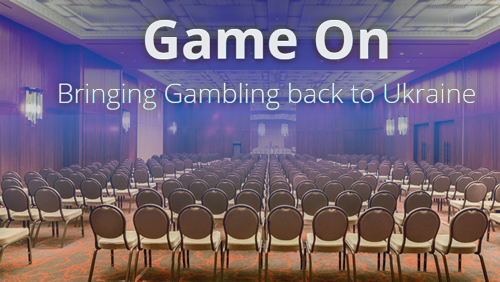 Viktor Romanyuk, a People's Deputy and a member of the Ukrainian Parliament presented the work of a task force charged with developing new draft legislation which would regulate gambling activities in Ukraine. Mr. Romanyuk presented the segmentation approach of the new legislation which gives individual consideration to different forms of gambling. He stressed, however, that return of slot machine operations is being deliberately left out, as it would be difficult to justify to the public, given the circumstances of the original ban. Mr. Romanyuk notably welcomed feedback from the industry present at the Conference on how the new legislation could be improved.
Michael Boettcher, President of Storm International, delivered a flat-out but at the same time charismatic address to the audience on how reputable and responsible international casino operators would return to the country. Mr. Boettcher described the unique positions of Ukraine being arguably the only remaining market in Europe – where the industry is already overly saturated – which would be attractive to potential gaming industry investors. He stressed, however, that draconian laws, unjustifiably high tax rates, or inconsistent actions by the government would be counter-productive in this respect. Mr. Boettcher concluded with a conviction that the return of the gaming industry in Ukraine should be spearheaded by people who care to make this industry work for everybody's benefit, as opposed to meeting vested interest or hidden agenda of select pressure groups.
Steve Donoughue, a gambling consultant and UK Government adviser, presented a fairly startling but a well-reasoned case for the government to be left out of managing the gambling industry. He contended that best international experience calls for creation of an independent Gaming Commission which would regulate all aspects of the industry, leaving the government to formulate approach to taxation and oversee collections. Under such circumstances opportunities for corruption and systemic abuse are reduced to a minimum. As Mr. Donoughue concluded, any industry, particularly gambling, must always be regulated – if banned or left unchecked it will inevitably lead to problems.
Other presentations on the first day of the Game ON Conference focused on such expertise as taxation (by DLA Piper Ukraine), key success factors in a properly functioning gambling industry (by Olympic Group), prospective locations for gambling operations in Ukraine after the industry's re-launch (by DTZ Ukraine), fight against match-fixing (by Federbet), and combining global experience of international operators with local knowledge (by Tilley Entertainment).
Glyn Thomas, co-owner of ACE Publishing Ltd., organiser of Game ON, summarises:  "Presentations on the first day of the Conference were all very different in the topics they covered, approach or even presentation style, but all speakers seemed to agree on one key message:  Ukraine has a unique opportunity. An opportunity to develop a reformed and vibrant gambling industry – an industry regulated in accordance with the highest international standards, that is fair and transparent, which pays sizeable but reasonable taxes, meets modern challenges and is socially responsible, and is able to be effectively governed. All of us, the industry and the government alike, have to work closely together to adopt best international practices as a basis for the new legislation which should be second to none.  We need to get it right this time."
At the end of a long but productive day, Parimatch holding, who acted as a lead sponsor of the Game ON Conference, welcomed all speakers and attendees to a reception in their Kyiv office to continue discussions and networking.
Game ON is an industry-wide programme of events and initiatives which opened with a two-day Conference in Kyiv bringing together top government officials, representatives of the Ukrainian parliament and the international gambling industry. Presentations and discussions focused on how Ukraine could have a rejuvenated gaming industry that is transparent and fair to all involved, while providing a sizeable contribution towards the country's economy and meeting the modern social objectives set by the State and the industry.
For further information on the Game ON initiative and the programme of upcoming events please visit http://www.ukrainegaming.com/
About ACE Publishing Ltd.
ACE Publishing Ltd. is the publisher of Casino Life and Bingo Life magazines and organiser of specialist B2B conferences and events worldwide. Working from offices in the UK and Kyiv, Ukraine, the company has unrivalled access to on-the-spot information from operators, regulators and manufacturers affecting gaming trends around the world. For more information, please visit: http://www.ukrainegaming.com/
For further inquiries, please contact:
Whites Communication
Elena Luzhanovskaya
+38 044 536 1508
[email protected]
About Parimatch
Parimatch is an international holding company with a 20-year betting experience, represented in 6 former CIS countries. It occupies leading positions on markets of Belarus and Moldova.
Parimatch specialists keep constantly improving the technologies, implementing betting innovations ensuring reliable and timely payments, high level of service, security and privacy of all transactions.