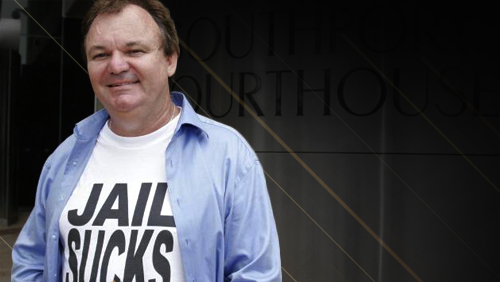 Peter Foster is reportedly seeking to get out of jail, six months before his time at the Brisbane Correctional Centre is up.
Federal Court Judge John Logan ordered to close the court on Tuesday while lawyers for the Australian conman presented legal materials relating to his plea for an early release, The Courier Mail reported.
According to the news outlet, the lawyers said the appeal is based on a "new factor" and that the stakes were "simply too high" for Foster if the appeal is heard in an open court.
Foster's lawyer Saul Holt QC was quoted saying: "The reality for him is that the risk of any knowledge of these matters… is likely to have profound consequences."
The 53-year-old is currently serving an 18-month sentence in the Brisbane prison in connection with his weight-loss scam.
Foster was arrested in Byron Bay, New South Wales, in October 2014 after spending 12 months running from police. He was found guilty of contempt for ignoring a ban imposed in 2005, which prevented him from getting involved in the $6 million oral diet spray scam.
It was also discovered that Foster co-founded the online betting company, The Sports Trading Club, while hiding from police. Authorities said the man earned millions from sports betting scheme, which Foster and his associates ran from his rented mansion in Byron Bay.
Before closing the court on Tuesday, Logan said he has the power to grant an early release, although there was no precedent for it in Australia, according to skynews.com.au.
A decision on Foster's plea is expected on Friday.