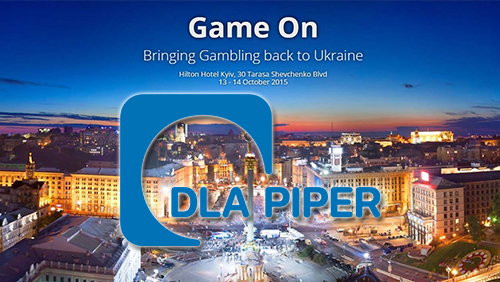 25 September 2015; Kyiv, Ukraine. DLA Piper Ukraine a global law firm, has become a silver sponsor and one of the speakers of Game ON Conference, which will be held on 13-14 October in Kyiv. The firm will rely on currently existing legislative initiatives aiming to provide for regulation of gambling in Ukraine with primary focus on online gambling sector.
DLA Piper's Gambling team provides a 'one-stop-shop' for legal services to operators, suppliers and investors delivering first class multi-jurisdictional advice on gambling law and regulation. The firm's expertise includes licensing, regulatory, commercial advice attuned to the sector, all IP matters, advertising and branding, technology, telecommunications, data protection, consumer law, corporate, real estate and tax. The practice group has been ranked No 1 in the areas of sports, gaming and gambling by international legal directories Legal 500 and Chamber Global, 2015 edition.
The law firm has launched and constantly contributing in its 'THE ALL-IN' gaming blog which is a valuable resource for legal and regulatory updates for gambling sector (http://blogs.dlapiper.com/all-in/). Twenty regular contributors to the online resource, representing senior gaming law specialists from DLA Piper offices, provide timely topical analysis from across the globe.
Natalia Pakhomovska, Partner, Head of Intellectual Property & Technology in Ukraine, said: "Today almost all countries have at least one form of authorized gambling and Ukraine is on its route to introduce its own regulation. At a time where government is increasingly looking to gambling duties to fill the gaps in the state budget, operators and suppliers need to be alive to the challenges if they are to make the most of the resulting opportunities. Thanks to the cross-border expertise we can guide the clients around the pitfalls of working in new environments and help run and support successful international businesses with global brands."
Glyn Thomas, co-owner of ACE Publishing Ltd., organizer of Game ON, comments:  "DLA Piper have extensive experience in the operating and regulatory requirements of both physical and virtual gambling businesses, as well as close understanding of best practices for the industry. This expertise, which combines true global reach with local understanding of even most complex issues, will provide an invaluable contribution to the development of new world-class legislation in Ukraine."
Game ON is an industry-wide programme of events and initiatives, backed by the Ukrainian government, which will open with a two-day Conference bringing together top officials and international gambling industry. Presentations and discussions will focus on how Ukraine can have a rejuvenated gaming industry that is transparent and fair to all involved, while providing a sizeable contribution towards the country's economy.
DLA Piper is one of the world's largest legal services organisations, with the ability to provide seamless, high quality and cost-effective legal services to any entity involved in the gambling sector. DLA Piper is an international practice with a service delivered by local lawyers. This allows the firm to leverage different perspectives and experiences to tackle complex legal problems in a way that will give the clients a strategic advantage. Constant collaboration amongst the firm's dedicated team of international gambling lawyers sharpens the collective industry knowledge, creates cross-border cohesiveness and results in efficient delivery of legal services. DLA Piper can provide a single team, co-ordinated centrally (but with global reach) providing the most efficient provision of resource and a dedicated point of contact for ease of communication. The firm has 4,200 lawyers in 76 offices in 30 countries worldwide. We are a truly pan European firm with more than 24 offices across Continental Europe, also with a significant presence in  the U.S., Middle East, Asia Pacific and Africa.
Registration of delegates for Game ON Conference is open on the official web site of the Conference at http://www.ukrainegaming.com/
About ACE Publishing Ltd.
ACE Publishing Ltd. is the publisher of Casino Life and Bingo Life magazines and organiser of specialist B2B conferences and events worldwide. Working from offices in the UK and Kyiv, Ukraine, the company has unrivalled access to on-the-spot information from operators, regulators and manufacturers affecting gaming trends around the world. For more information, please visit: http://www.ukrainegaming.com/
For further inquiries, please contact:
Whites Communication
Elena Luzhanovskaya
+38 044 536 1508
[email protected]
About DLA Piper:
DLA Piper is a global law firm with lawyers located in more than 30 countries throughout the Americas, Asia Pacific, Europe and the Middle East, positioning us to help companies with their legal needs anywhere in the world. For further information about our organisation and services, please visit our website: www.dlapiper.com