Jason Somerville continues to dominate poker's Twitch coverage, and PokerStars celebrate by releasing an interesting infograph containing a variety of stats.
The PokerStars blog has celebrated Jason Somerville's recent World Championship of Online Poker (WCOOP) Twitch explosion by posting an interesting infograph on their blog.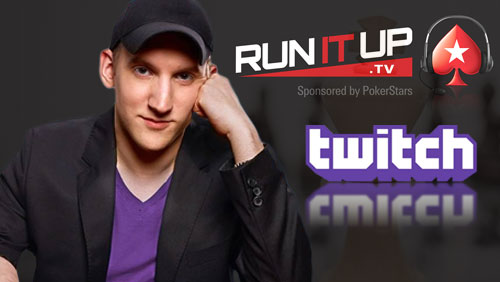 Currently in its second Twitch season, Somerville's RunItUP! show is easily the number on poker show on the live streaming platform, and at one time during his WCOOP run, it was the most viewed show on the whole of Twitch.
That enviable record was earned on Sep 7 when 37,434 viewers tuned in to watch jcarverpoker finishing sixth in Event #7: $700 NLHE Progressive Super KO earning $22,673.50 and $15,666.29 in bounties. A week late he would finish third in Event#18: $1,050 7-Card Stud Hi-Lo Championship for $22,200. It was only his third-ever Stud event, and over 27,000 viewers tuned in to witness his highest ever non-Hold'em event score.
Somerville burst onto the Twitch scene in a big way when PokerStars snapped him up to become a member of Team Pro. In his first season (March 1 – May 11, 2015) his RunItUP! show attracted 7.2 million views, 3.7 million of which were unique. As you can see from the infograph the USA, UK, Canada, Germany and Sweden are the most interested countries.
Then came the World Series of Poker (WSOP), and a break from his 484 hours of streaming. It wasn't the success Somerville had mapped out in his mind cashing in two events for a combined score of $15,000. He returned for a second season of RunItUP! on Aug 16 and that run will end on Oct 18. WCOOP events are being streamed live every day between Sep 6-27 and people are tuning in by the bucket load.
All of this is great news for the poker economy.
Twitch has 180 million unique visitors each month, and ranks third behind Hulu and Netflix for total minutes watched by viewers on streaming services.
Live video game streaming competition has just got even tougher with YouTube launching a version called YouTube Gaming. 15% of all You Tube videos are video game based so the transfer was an essential one. In the past week YouTube Gaming has created a mobile offering, something Twitch did in March 2014 in partnership with Sony Mobile devices.
With 130,000 Twitch followers, Jason Somerville, may well be the hottest property in poker, but he still has a lot of work to do if he is going to join the higher echelons of power. Somerville doesn't make SocialBlade's Top 100 Streamers (by Followers) with justin holding the number one spot with 3,785,869 followers. Somerville will have to more than double his followers just to eek into the Top 100.
Here is the infographic: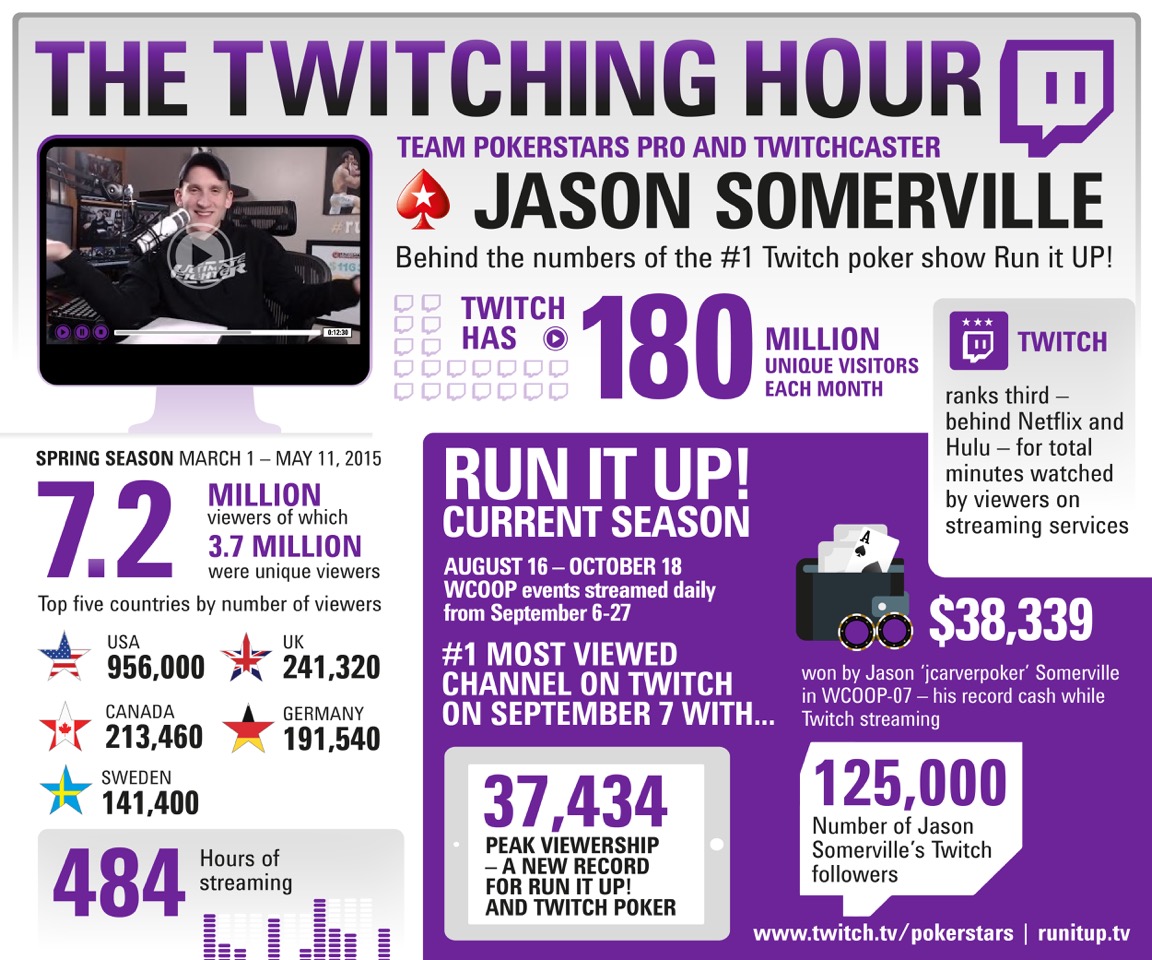 Comments