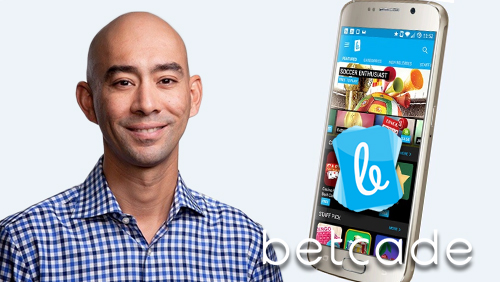 PASADENA, CALIFORNIA – September 1, 2015 – Betcade, the first dedicated Android app store for real money gaming, today announced its founding. Betcade will launch the first dedicated Android app store for real money gaming, providing casino operators with a unified, branded destination for gaming app distribution and management, and players with a trusted source for gaming app discovery and downloads.
Founded with the goal creating an ecosystem that benefits all stakeholders in the gaming industry, Betcade solves the issues of gaming app distribution, discovery, payment and management complexity, and security. The company will launch, market, and service its Android app store in beginning in 2016 in jurisdictions where it is legally permitted.
Betcade founder David Chang will serve as CEO. Previously David served as Chief Marketing Officer and Head of Industry Relations at Gamblit Gaming, a software development company focused on new technology for land-based and mobile gaming experiences.  Prior to Gamblit Gaming, David was founder and CEO of mobile game companies Gamiker Inc and OnNet Europe GmbH.
"People overwhelmingly prefer mobile apps over the browser experience: the time spent in apps now surpasses the time spent in browsers. However, there is currently no efficient mechanism in place for discovery or distribution for real money apps the way that there is for every other app category, " said David Chang, founder and CEO of Betcade. "Betcade will also streamline the download, install, and updating of apps and remove payment friction resulting in an improved user experience."
Mobile and technology visionary Trevor Fiatal, former co-founder, CTO, and CSO of SEVEN Networks, joins Betcade as Chief Technology Officer.
"I've spent the last several years advising and consulting with early-stage startups, but it wasn't until Betcade came along that I felt the urge to join the founding team" said Trevor Fiatal, Betcade CTO.  "This is a remarkable opportunity to conquer some unique challenges and create an entire ecosystem, and I'm excited to join the Betcade team on this adventure."
Betcade will debut its product offering to the gaming industry at G2E, September 29-October 1 in Las Vegas, NV. To set up a demo, please contact [email protected].
ABOUT BETCADE
Launching in July 2016, Betcade is the FIRST dedicated Android app store for the gaming industry and the premier destination for players discover, download and manage the best gaming apps. Betcade provides a trusted and secure branded app store that makes it easy for operators to distribute and promote their real money gaming apps, and for players to discover, download and play all of the games they love. Once players install Betcade and download their favorite real-money apps, management, updates and deposits are seamless. Betcade encompasses responsible gaming monitoring, limits and controls. Founded to create the first Android ecosystem specifically for gaming, Betcade's executive team has deep roots in gaming and mobile industries. The company is privately held with offices in Los Angeles and Silicon Valley and can be found online at www.betcade.com