MACAU, CHINA – August 31, 2015 – 'PokerStars LIVE Macau' kicked off Macau Poker Cup 23 this past weekend and completed three of the seventeen Official Asia Player of the Year events on the 17-day schedule.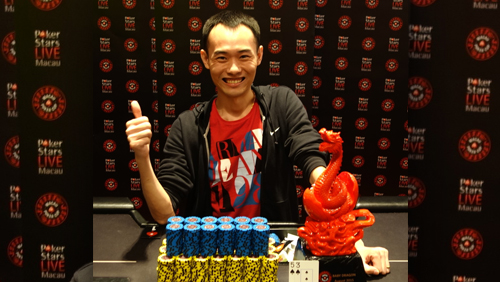 Those three events drew totals of 854 players and awarded HK$2,808,441 in prize money — the biggest opening weekend since the MPC expanded to a 17-day schedule last season.
"It's a fantastic start and hopefully a sign of things to come as we approach next week's Red Dragon main event." said APPT President Danny McDonagh. "Traditionally, the first MPC of the year has performed better than the summer edition."
"You'd have to go as far back as 2009 to find the last time the summer installment was bigger but I'm optimistic we're looking at exactly that."
The weekend's feature tournament was the Baby Dragon event which drew 353 players — a record for the HK$6,000 buy-in tournament — and was won by China's Xiang Rong.who earned HK$430,014 for his victory.
In total, 41 players cashed for a share of the HK$1,849,014 prize pool — easily surpassing the HK$1 million guarantee.
Rong was playing his first ever live tournament and went heads up against Hong Kong's Alan Lau for the title.
Lau had been one of the hottest poker players in Macau in recent months and his experience appeared be a significant advantage heading into the final hand.
Lau moved all-in with A♦8♥ and Rong, surprisingly, made the call with 5♠ 3♠ with only a marginal chip advantage.
But Rong could do no wrong as the board would run A♠-9♣-K♠-J♦-6♠ for the flush and the win.
BABY DRAGON FINAL TABLE RESULTS
1. Xiang Rong (China) — HK$430,014
2. Alan Lau (Hong Kong) — HK$272,700
3. Aaron Lam (Singapore) — HK$171,000
4. Alex Kim (Korea) — HK$134,100
5. Yasuhiro Ojiri (Japan) — HK$97,100
6. Shashank Rathi (Hong Kong) — HK$78,600
7. Chih Chun Chang (Chinese Taipei) — HK$61,900
8. Yi Huang (China) — HK$52,700
9. Shing Yui Yip (Hong Kong) — HK$43,500
For complete Side Event Results please CLICK HERE
For Baby Dragon, Day 1 Player List please CLICK HERE
For the MPC23 schedule please visit www.PokerStarsLIVEMacau.com
Alan Lau's runner-up finish in the Baby Dragon event gave him the No. 1 rank on the Asia Player of the Year leaderboard. However, that would literally last an hour as reigning Red Dragon champion Yuguang Li would leapfrog Lau by finishing 3rd in Event 3.
For the Asia Player of the Year rankings please CLICK HERE