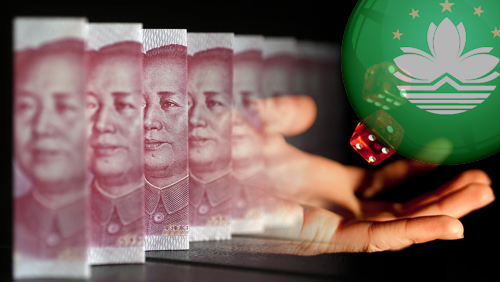 China's yuan devaluation against the U.S. dollar remains to be a short-term problem for operators in Macau, unless of course, there's an economic collapse.
Dan Wasiolek, senior equity analyst for investment research firm Morningstar Inc., said Nevada-based Wynn Resorts Ltd, Las Vegas Sands Corp. and MGM Resorts International were forecast to receive 62 percent, 55 percent and 27 percent, respectively, of their earnings for 2015 before interest, taxation, depreciation and amortization in Macau.
"Currency may present a near-term sentiment overhang in the shares, but barring an economic collapse, we see the yuan devaluation as manageable for the Macau operators," Wasiolek wrote in the Morningstar website on Monday.
Wasiolek explained that U.S. operators are not affected—for now, at least—with the weak yuan since sales and expenses in Macau are denominated in pataca (MOP), which is pegged to the Hong Kong dollar.
"If the yuan continues depreciating, it will face decreased purchasing power relative to the Hong Kong dollar; this could have negative transactional impact on those operating in Macau," he noted. "But further yuan depreciation could result in Hong Kong devaluing its dollar to stay competitive with other countries."
Most bets in casinos at the city state are denominated in Hong Kong dollars, which are pegged to the U.S. dollar.
"A 1 percent change in the U.S. dollar/pataca exchange rate equals a gain or loss of $13.7 million for Las Vegas Sands, which is manageable based on our 2016 net income estimate of $2.3 billion for the firm," Wasiolek said.
Casino gaming revenue in Macau has already hit a new low in June, the likes of which not seen in nearly five years.
The Gaming Inspection and Coordination Bureau reported that total gaming revenue for June slipped to $2.2 billion, which is about a 36.2 percent decline year-on-year and the lowest monthly total since November 2010.
But Wasiolek remains positive, saying it's not "unreasonable" to expect visitor numbers and casino revenue to "re-accelerate to above a mid-single-digit pace in a few years as new casinos open in 2015-17."
Earnings at Macau's six biggest casino operators already dropped by 40 percent in the first half of the year as a result of the Chinese government's crackdown on corruption. Still, operators are facing added pressure as the city state is expecting to open more than $20 billion worth of new casinos and entertainment facilities soon, the Financial Times reported.