Lee Davy explains why the cessation of the WSOP Main Event final table, and the prolonged wait for the climax, is unsatisfactory for the fan of poker.
The queen of hearts hits the deck, Daniel Negreanu hits the deck; my interest in the 46th Annual World Series of Poker (WSOP) hits the deck. Thud. Thud. Thud. I close my laptop, put on the kettle and look beyond the Cardiff city skyline.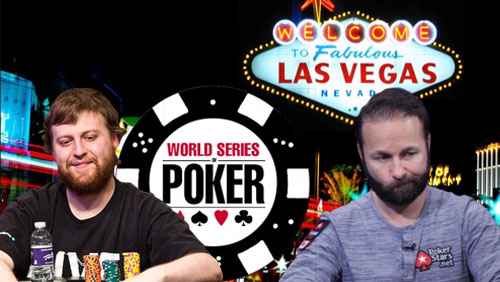 "What shall I do now?"
I've watched a lot of final tables in my short career in this industry. None of them have turned me on. More sandals and baggy pants than torn fishnets and high heels. The game is boring. I'm sorry but it is. I would rather watch cricket. That's how boring it is.
Poker is like sex. Plenty of poxy pawing to get to a thunderous climax. This is why edited poker shows are great. I fell in love with poker after watching the World Poker Tour (WPT) and World Series of Poker (WSOP) on TV. There was no foreplay. It was climax after climax. Talk about being flushed. My cheeks were like cherries after an hour with Mike Sexton and Vince van Patten.
That doesn't happen at a final table. The November Nine is as pointless as artichoke hearts.
A conversation with the Global Poker Index (GPI) supremo, Alexandre Dreyfus, has convinced me that it's time for a change. I love poker. I write about poker. It pays my bills. And yet I have never watched a November Nine final table. I won't be breaking that run this year.
Dreyfus told me: "You and I could play in the Rio and end up on TV. That's good for you and me, but nobody at home gives a shit."
He believes poker is geared to appease the customer, and by doing so forgets the importance of the fan. He aims to change the experience with the creation of the Global Poker League (GPL). It's a concept that has grabbed my attention. It's a game of poker I will tune in and watch.
I don't think the November Nine concept helps the customer or the fan. I think it's time for a change. Like many poker fans, I had been glued to my computer screens for the past seven days. Daniel Negreanu is the main reason why. He played the role of protagonist to perfection. It's all about the characters, and he is the biggest one of them all.
By the time we had reached Day 7 my excitement had become a maelstrom of madness. I made my smoothie. I meditated. I turned on my laptop to check if Kid Poker was going to reach the final table. That had become my daily ritual.
Then Joe McKeehen screwed it up.
The story ended.
Then a strange thing happened.
I was still interested.
My interest in Negreanu's journey had resulted in a connection with the rest of the cast. I was stuck in a state of flow. Suddenly, the WSOP Main Event, and the cast, meant something to me. For the first time in years I was getting the fan treatment.
And then McKeehen did it again. He eliminated Alex Turyansky and the pain stabbed at me for a second time. It was over. Just like that. I had a serious case of blue balls. I needed to find a release, but there was nothing there. I would have to wait four months to get my satisfaction. That wasn't going to happen. The event died in that moment, like it does most years.
Now let's look at things from the perspective of McKeehen. He owned that stage. He stood at the apex and bathed underneath the lights. He was the star. He was in a perpetual state of flow. It was all kicking into place. Had the tournament carried on I have no doubt that he would have become the WSOP Main Event Champion.
Pierre Neuville is 72-years old. Neil Blumenfield is 61-years old. A pair of spring chickens they aint. It would have been to McKeehen's advantage to keep on playing. I know because I was at the European Poker Tour (EPT) Main Event final table in Copenhagen when Neuville lost to Mickey Petersen at the heads-up stage. The Belgian ran out of gas.
There is no answer contained within this article. This is not an opinion piece on what the WSOP should do to make this thing work. Instead it's a groan from a fan of who feels like he has opened up a flip book and nothing it flipping.
The clamor and frenzy of the greatest poker tournament in the world has been placed into quarantine. Last night should have been the night that we enjoyed the end, a fact I can't quite apprehend, and one that's driving me around the bend.