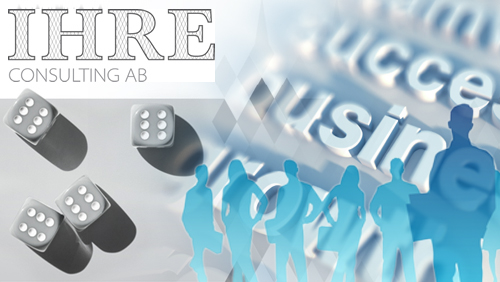 Ihre Consulting are pleased to announce the hiring of Yrsa Thunholm,Samantha Gurfinkiel and Rebecka Olausson to expand the Ihre Consulting team to 8.
YrsaThunholm comes from a casino background and was the Business Development Manager for Catena Media, a large affiliate network based out of Malta.  She will be taking the position of Business Development Director at Ihre Consulting, driving projects forward and aiding in the future growth of the company.YrsaThunholm will be based in the Head Office in Stockholm, Sweden.
Samantha Gurfinkielhas 6 years experience in the gaming industry, coming from Bwin.Party and Traffic Point.  As Global Affiliate Manager Samantha is running all the company's affiliate conversion and retention campaigns and working closely with all our affiliates on a Global scale.
RebeckaOlausson is Ihre Consulting's Senior Affiliate Manager, working to build relationships and partnerships with our affiliate portfolio as well as assisting with managingour existing clients.  Rebecka comes from Gala Partners, has a Scandinavian casino and bingo background and is an asset to the Ihre Consulting Affiliate Team.
Existing employee Simon Johansson has received a promotion from Affiliate Manager to Affiliate Director.  Simon manages the Karl Casino Affiliate Program, amongst many other things, and receives multiple recommendations and testimonials from affiliates, recommending his services to other partners in the industry.
Ihre Consulting are also pleased to have opened our third office, based in the heart of Tel Aviv where new employees Samantha Gurfinkiel and RebeckaOlausson will be based, alongside SaskiaMarinescu who joined Ihre Consulting in 2014.
Edward Ihre Commented: "With a large gaming community based out of Israel, opening the office there makes perfect sense.  We have 3 strong Affiliate Managers located in Tel Aviv, 4 staff in Stockholm and 1 in London. We have seen significant growth in 2015 so far, and look forward to the future."
Ihre Consulting's main area of focus is on affiliate management, working for both the affiliates and operators.Any affiliates or operators interested in working closer with Ihre Consulting should see the contact details below.
About Ihre Consulting AB
Edward Ihre is the founder of Ihre Consulting AB which launched in March 2010 in Stockholm, Sweden. Ihre Consulting was set up to connect all the right people together in mutually beneficial partnerships, with a key focus on Affiliate Management. We also offer an affiliate network to affiliates, but not in the traditional sense affiliates are used to. Please see website for more details.
Many years of experience within the above fields and with an extensive network of contacts, Ihre Consulting can create unique, innovative and sustainable solutions for your company.
CONTACT INFORMATION
Edward Ihre
CEO
Ihre Consulting AB
[email protected]
tel: +46 709119969