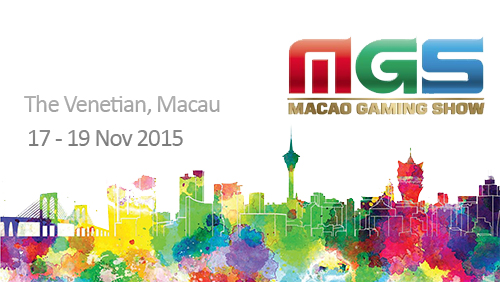 Visitor registration for this year's Macao Gaming Show (November 17-19th, The Venetian, Macao) has gone live. C-Level gaming professionals from around the world, who last year attended MGS from a record 20 nations, are being invited to register for the Asian gaming industry's keynote exhibition via its website.
The www.macaogamingshow.com site provides simple registration options for one of the world's fastest growing gaming exhibitions, which this year will focus not just on the most significant gaming developments and trends, but also the destination and broader business opportunities in Macau and the entire Asia region.
MGS General Manager and Event Director Marina Wong was clearly enthused as the programme for the 2015 edition of Macao Gaming Show begins to roll-out. She explained: "This is a key time for both the Macau and the entire Asian gaming industry. MGS is the gateway to this significant marketplace and vast sums of investment and economic faith are being entrusted to our industry. MGS is determined to deliver on this over the coming years: we have the key support and backing of the Asian business community, a close working relationship with the Macau SAR Government and there is a clear vision for how we need to drive our industry forward 'for the world'. It's a clear message – MGS 2015 is now open for business."
Immediately following last year's edition, the Macao Gaming Show operation has been working intensively with its various stakeholder groups in order to continue the momentum and deliver a bigger and better event which reflects the changes taking place not only within its home market but also in the Asia region. Marina Wong added: "I am pleased to say that we are ahead of our targets and forecasts and the industry can look forward with confidence and enthusiasm to what is the only show that is truly representative of the Asian gaming industry."
For more information and to register for the Macao Gaming Show, visit www.macaogamingshow.com
Media Enquiries:
Phyllis Zhang
Public Relations Officer, Macao Gaming Show
Tel: +853 2878 7250
Email: [email protected]
Macao Gaming Show | OVERVIEW
Macao Gaming Show (MGS) is organised by the Macau Gaming Equipment Manufacturers Association (MGEMA), co-organised by the General Association of Administrators and Promoters for Macau Gaming Industry, Associação de Mediadores de Jogos e Entretenimento de Macau, Macau Jockey Club, MACAUSLOT, and Macau Yat Yuen Canidrome. It is the first large scale gaming and entertainment exhibition organised and run by Macao organisations.MGS will have a floor area of over 10,000 m2. Exhibitors and buyers eyeing the Asian market will be coming from all corners of the world. The event will cover six gaming industry segments: Gaming Equipment and Accessories, Gaming Promoters (Junkets) and VIP Clubs, Casino Fixtures and Fittings, Promotional Services and Memorabilia, Food and Beverage, Entertainment and Performance.