Sam Cohen: Draftkings, Downswings, and a Dad Who Zings Audio
Lee Davy sits down with Sam Cohen to talk about downswings, energy, the love for her family and much more.
Sam Cohen is an absolute dream to have at your table. She delivers the perfect amount of chatter. She knows when to engage and when to leave you alone. She also takes the position of assistant dealer, organizing everyone's chips and ante's to perfection.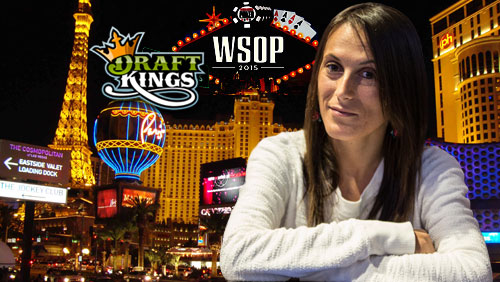 This behavior comes from an upbringing that she holds dear to her heart. An upbringing designed around empowerment, empathy, and eating good grub around the family dinner table.
I had the opportunity to play with her during Day 1 of the Draftkings 50/50, and this is what she had to say.
What is your opinion on the Draftkings 50/50 event?
"I really have no idea what to think of this particular event, but whenever they create a gimmicky event they always get a big field, and I like that. They pay 50% of the field so half of those players are going to win $1,000, so they will lose money on their investment, but if I make that $1,000 then it will be my second biggest cash of the year, so I couldn't skip this."
Is your downswing a result of variance, or playing badly?
"I haven't played a lot. I came out here totally refreshed, but it hasn't yielded me any results. I have definitely made some mistakes, but I got it in ahead in my crucial pots, most of the time. I have definitely been making mistakes though. It's not all variance."
Do your downswings affect your life?
"It's actually interesting. I have never experienced this before. I got into poker backing someone who started off on a heater, so we always had money. I would lose some money, but then I would have another big score to break even. I guess it happens to everyone. It's frustrating but it doesn't affect my game, or my life. I try to remain positive, do a lot of things outside of poker that makes me happy, and hopefully things will turn around."
I was really excited to play this event, but then some pros came over to the table and started belittling it. It made me feel small, does that ever happen to you in life?
"I always feel a little out of place. When I sit down at a poker table I don't fit the mould of what a poker player should look like. When I was younger I was into pop punk. I don't necessarily need to give you a description of that scene, but I didn't fit in there either and loved it. I don't seek that out, but it doesn't make me uncomfortable. Poker players can be incredibly harsh and overly critical of things they don't realize can be offensive to other people, so I understand where you are coming from."
What traits do you have that have enabled you to be successful?
"I don't necessarily feel like I have been successful, but one of the reasons I'm able to be as free-spirited as I am, is because I have the complete support of my family and friends. I don't feel alone. I also have a very hard work ethic. I put 100% into everything I do, or I won't do it."
Do you love to learn?
"I love to learn, and am always reading different things. I took the GMAT in December, and I'm going to go to business school one year for now. I like to learn, I am a complete nerd."
What do you want to do with that knowledge?
"My interests are always evolving, but I definitely like interacting with people, especially children. I know getting a business degree is completely unrelated to that, but I can see myself getting into teaching at some point in the future."
Do you believe the urge to teach is biological?
"Not with sociopaths 🙂 I think some people are more nurturing than others. Because of my upbringing I am always looking out for everyone. We joke that I am the Jewish Grandmother of the crew. That's who I am, I am not sure about everyone else."
What qualities do you like to see in your friends and family?
"I like honesty. I don't like people bullshitting me when I ask them a question. Intelligence and kindness is important. If you know people who have your best interest at heart, that's important because you know their feedback is designed to improve you."
Who are the people that surround you in your life?
"Because I travel so much my group of friends shift. I don't spend that much time with my friends from college, because of the traveling, but we are really good about keeping in touch and talking. When I am not playing poker I make it a priority to spend time with my family. They are my crew. My Dad is here. He played the $2,500 the other day, and is playing as $1,500. He has already picked out his final table outfit."
Why are you so close to your parents?
"I think that's the way my Dad was raised by his Dad. They were very family orientated and had dinner together and stuff. We didn't have a lot of rules: behave well, treat people well, and get along with your brothers and sisters. As I got older, and into my teenage years, my Dad would always be there to listen to me, without having to give advice. He was guiding me and I find that very empowering."
I am getting this bad energy vibe at the Rio of late. Do you transcribe to the whole energy vibe thing?
"I do, although I didn't used to. I am cynical in general. I used to think the energy stuff was nonsense and then I started playing poker. Negative poker players, even if they are not saying anything to you, make you feel blah. That's why I love the Aussie Millions it's the beginning of the year and everyone is so happy. I had a guy fist pumping me every time I coolered him. I love that. It renews your faith that there are people out there with good energy."
Comments