Steve Watts: From Poker Stars to Pop Stars Audio
Lee Davy talks to Steve Watts about his transition dealing with poker stars to dealing with pop stars, and what it's like to be a father for the first time.
Life is never dull for Steve Watts.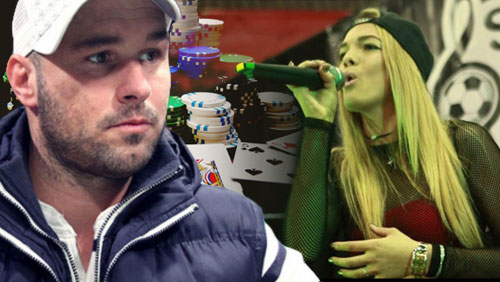 He is back at the World Series of Poker (WSOP); a place where in 2013 he finished 59th in the Main Event for a $123.597 score. Only this time the place has a different vibe to it for Watts. There is sadness at leaving his newborn daughter at home with Mum, and there is excitement at the thought of meeting some influential people in the music business.
Music business?
Is Watts going to get into shape and audition for Another Level for a second time?
Let's find out what's going on shall we?
I hear you are managing a young girl with a lot of talent, tell me more.
"My wife Katie is a vocal coach doing a lot of work in Essex. She gets a lot of talented kids coming her way, and she's been looking after an outstanding talent called Louisa Johnson since she was 11-years old. A lot of managers were after her, and as you know, Katie got pregnant and asked me if I would look after her. I wouldn't have done it if I didn't think she was a superstar. We have put in a lot of hard work in the past six months, and hopefully you will see the benefits this summer."
Have you ever done anything like this before?
"I used to be a football agent in the lower leagues, so I have experience when it comes to negotiating contracts. I think the product is the most important thing. If you have the best product, you can be the best manager in the world. We have the best product.
"Katie also looked after a girl called Lauren Platt, who came fourth in the X Factor last year, and we think Louisa is on a different level."
It can't be easy trying to manage a teenage girl?
"It's tough. I've gotten really close to her, because we have put a lot of hard work in these past few months. You know what teenage girls are like, they are hard to handle, but Louisa is great. She is a good girl, and listens to what I have to say.
"Hopefully, I am a bit of a father figure, manager and friend. It's important that we have a laugh together. I want her personality to come out, and for her to be comfortable with it. There will be some music videos coming out soon. Make sure you follow her on Instagram @louisajohnson0"
What's the next step?
"I am going to meet up with a few managers whilst I am in Vegas. I have a few people flying over from LA, who have worked with the likes of Destiny's Child and SWV. They are interested in working with her, and have been writing some songs, so it's an exciting time."
Are we going to see her on one of the reality TV shows?
"She has been asked to do those things. We are negotiating at the moment, but nothing to disclose yet."
You have recently become a father, how does that feel?
"My missus just sent me a video for Fathers Day. I watched it at the table and that upset me a little bit. I knew I was coming out here not long after she was born, but knowing it is one thing, I'm finding it really hard right now. But I have to try and make a bit of money. The poker has gone quite well in the past 3-4 years, but I am enjoying the managing, and trying to be a father. I don't think I have that long left in poker to be honest."
I am sure Speedo have room in their modeling department Steve.
Comments