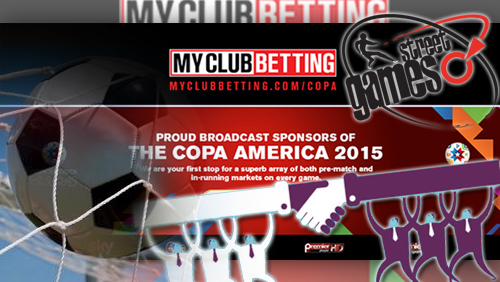 MYCLUBBETTING.COM has teamed up with StreetGames to become their Official Charity Partner during the biggest international football tournament of the year.
The Copa América in is full swing, with 26 matches broadcast live throughout the UK via Premier Sports. The games will be shown on SKY channel 428, Virgin 551, TalkTalk 526 and in HD via the Premier Player online.
WWW.MYCLUBBETTING.COM/COPA is your first stop for a superb array of both pre-match and in-running markets on every game.
MYCLUBBETTING.COM is the Official Broadcast Sponsors of the44th edition of the COPA América, which features 12 Latin American nations battling it out for a momentous finale on July 4.
And StreetGames is set to benefit, as 20% of revenue from those who bet via MYCLUBBETTING/COPA during the tournament goes directly to StreetGames.
The tournament features 10 teams from South America's CONMEBOL along with two guest nations from CONCACAF. They will compete in three Groups across nine venues.
An amazing array of familiar faces from the Premier League will be spending their summer months 'back home' in the quest for glory.
Among the names joining Lionel Messi and Neymar are Chelsea's Filipe Luis and Willian, Manchester City's goal machine Sergio Aguero and teammates Pablo Zabaleta, Martin Demichelis and Fernandinho, plus Liverpool midfielder Philippe Coutinho.
Arsenal striker Alexis Sanchez, Manchester United's Angel Di Maria, Marcos Rojo and on-loan Radamel Falcao, plus Tottenham's Erik Lamela and West Ham's Enner Valencia are also among the big names sure to excite.
MYCLUBBETTING.COM supports grassroots clubs across all sports by providing betting sites for any club, regardless of size, and are the only bookmaker who give back 20% of net revenues* to the individual club or a good cause. Those who take advantage of the zero-cost service also receive free kit and equipment*.
Clubs can create their own betting service at the click of a mouse and start earning revenue immediately.
Mark Adams, Group Marketing Director of My Club Betting commented: "This is biggest football tournament outside of the World Cup, with so many established and recognised stars on show. We are proud to support grassroots sport and pleased to have forged this exclusive relationship with StreetGames."
Adam Smith, Director of StreetGames, added: "We are delighted to welcome on board MYCLUBBETTING.COM as our Official Charity Partner to the 2015 Copa América. StreetGames helps make sport accessible to all young people, regardless of their income or social circumstances. MYCLUBBETTING.COM invests in local clubs around the UK and Ireland, and we see the brand as a perfect fit."
About MYCLUBBETTING.COM
MyClubBetting.com (MCB) is a specialised marketing communications and technology company, providing a free betting service to any club, from elite to grassroots level.
MCB provide a bespoke club betting website that enables clubs to retrieve a percentage of bookmaking revenues, which can be used to aid grassroots funding.
MCB works with global partners who provide the events, prices, and bookmaking services that provide this unique service.  Supporters will be dealing directly with these partners, opening an account with them and placing bets with them, whilst MCB manages the club relationships.
MyClubBetting.com was the Official Betting Partner at Rugby League World Cup 2013 and Official Broadcast Partner to the Copa América 2015.
For more details, visit www.myclubbetting.com or call MyClubBetting.com on 01883 332652.
About Street Games
Street Games (www.streetgames.org) is an award-winning national sports charity launched in 2007. A national partner of Sport England and a national centre of expertise for developing sport in disadvantaged communities, the charity helps make sport accessible to all young people, regardless of their income or social circumstances.
It does this by supporting and establishing local projects around the UK that deliver doorstep sport, i.e. positive activities and sport provided to young people when they want it, where they want it and how they want it. Over 2.4 million attendances have already been generated by StreetGames projects.
Comments