In this week's confessions series Lee Davy talks about the constant evolution of information, and how the next logical step for writers of poker may be to host their own Twitch channel.
How do you earn a living writing about poker?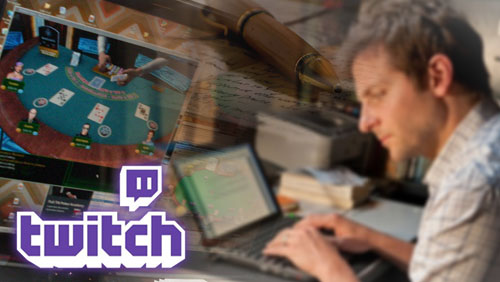 It's a common question. Delivered, mostly by people who don't even know that poker exists outside of their Grandparents kitchen.
My responses have varied over the years. I've become more experienced, and the world has changed. If I were answering that question today, I would advise people to start watching Twitch.
My purpose in life is to help everyone in the world gain access to affordable tools, and coaching, that can be used to create happiness and freedom. It's not to provide joy in the hearts of poker enthusiasts through my opinion. If it were, Twitch is where I would be hanging out right now.
Rip up your notepads, take the batteries out of the Dictaphone, and shut down that blog. The world is changing, and you have to change with it. Don't get me wrong, there will always be people who want to sit underneath an apple tree, with a book in hand, and a piece of straw in one's mouth. But soon, the vast majority of people won't know what a tree looks like.
We consume information very differently today. I started writing five years ago. I'm a pup. But it's a different world today. I receive a lot of blog posts from a lot of people. I file them. I read them when I am sitting in the dentist waiting room, waiting for a bus, or getting rid of some waste.
Lately, I'm only reading Seth Godin. Half of the time they don't interest me, and half of the time I don't understand his point. But they always get read, before anybody else. Why? They are short and sweet. He doesn't waste a word. I don't have time to read a wasteful word. We make a good match.
Everyone wants our attention. Seth Godin has gotten mine. I like to read, but I also like to watch videos, and listen to audio. Video, especially, gets me very engaged. It's also easy. It takes no effort. Switch it on, put your feet up, and watch.
If this writing lark were my life purpose, I would start a Twitch channel. I'm a great believer that people read my stuff, because I have written it. I believe that's the case for everyone. The content plays second fiddle to the producer. I'm sure, that if my name weren't attached to an article, that I had written, a lot of people would still recognize it as mine.
You can make this same mark on Twitch. In the beginning it may be tough. I would suggest working hard to create a lengthy line up of guests. Don't choose the best poker players. Choose the most interesting ones. Figure out who has the greatest story. Who people will connect to. Then invite them onto your show, market the shit out of it, and go from there.
Make sure there is plenty of banter. Humor is important. So is vulnerability. Show people you have a heart. Be open. Share. Take topics that are current, in the poker industry, and debate them live. Most importantly, do not be afraid to air your opinion. Don't stick with safe. That's boring shit. Make sure you take some risks.
If all of this seems too much for you, then don't go it alone. Connect with a poker player, who is popular, but might not have the minerals to pull it off on their own. Daniel Negreanu is a natural in front of the camera, so is Jason Somerville, but not everyone is as confident. Find a Larry Wilcox and you can be Erik Estrada.
Do you know the best thing about this idea?
Nobody is doing it.
Go on.
Be the first.
Comments