Wesley Wiegand has defeated Anad Kumar, in heads-up action, to take the first prize in the World Poker Tour National Series Main Event in Johannesburg.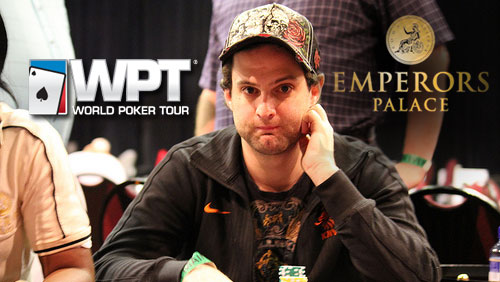 I have been to South Africa twice in my life. On both occasions I was working for the World Poker Tour (WPT) at the Emperors Palace in Johannesburg.
I have plenty of memories of South Africa. Most of them involve lions, rhinos, hippos, and then there is the odd shark. The one shark that I remember more than any other is Wesley Wiegand. He made the final table the first time that I visited, finishing fourth, and he made the final table the second time I visited, finishing fifth. I think I must have been his curse. I wasn't there for the WPT National Series Main Event, and he has gone and won it.
Wiegand picks up $81,026 after defeating Anad Kumar in the heads-up phase of an event that lasted three days. The final day began with 14-players still left in the hunt, and all eyes were on Davor Dadic, who was looking to defend the title he won the last time the National Series trophy was up for grabs.
As you are already aware, Dadic didn't go on to repeat his earlier success, but he did make the final table. He finished ninth place after the final 10 players agreed on a deal. Intrepid reporter Remko Rinkema tweeted that he had never seen anything like it in his life.
10-handed deal discussion ongoing at @WPT National Johannesburg. Never seen this before in a tournament I've covered.

— Remko Rinkema (@RemkoMedia) April 19, 2015
That's the way life is in the Joberg card rooms. Especially when the WPT come to town. The action is fast and furious and the players all have a soft spot for one another.
All 10 players instantly agreed to give the bottom four spots a bit extra. Very friendly atmosphere, no equity calculations. Nice to see.

— Remko Rinkema (@RemkoMedia) April 19, 2015
Two other familiar South African poker players made the final table: the former World Series of Poker Circuit (WSOPC) winner, Warren Zackey, finishing in 7th, and former WPT Main Event final tablist Nahum Lum finishing in 4th.
The heads-up battle was more of a heads-up one-sided hammering, after Wiegand's pocket nines withheld the force of Hilton Nortje's ace-queen, to take 8.8m chips into the final match up against the 900k of Kumar. The final hand seeing Wiegand's AJ out flopping Kumar's Q8 to take the title at the third time of asking.
Final Table Standings
1st. Wesley Wiegand – $81,026
2nd. Anad Kumar – $48,016
3rd. Hilton Nortje – $31,510
4th. Nahum Lum – $21,757
5th. Ciro Koncke – $16,056
6th. Max Sartirana – $12,754
7th. Warren Zackey – $9,753
8th. Greg Tucker – $7,053
9th. Davor Dadic – $5,102