Angela Jordison with an unbelievable streak of three side event victories in three days, at the Spring Poker Round Up in Oregon, and Ludovic Geilich wins the Genting Poker Series Main Event in Newcastle.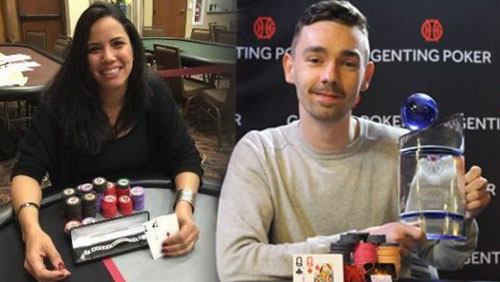 The cleaning gang, at the 2014 Global Poker Index (GPI) American Poker Awards (APA), hadn't finished racking away the champagne flutes when Anthony Zinno decided to put in an early bid for 2015 Tournament Performance of the Year, with back-to-back World Poker Tour (WPT) Main Event victories in Niagara Falls and Los Angeles.
The engraver had already etched his name into the trophy.
We may need a new trophy.
Angela Jordison, a Central Oregon bar owner, and mother of two, has befuddled poker players, by winning the first three side events at the 2015 Spring Poker Round Up at the Wildhorse Resort & Casino in Pendleton, Oregon.
The events might not carry the weight of the WPT buy-in, nor the prestige and power of the players on show, but the achievement is quite amazing when you consider the number of players that she had to beat, coupled with the fact that she did it over a three day period.
On April 10, Jordison beat 537 players to win the $10,828 first prize in Event #1 $125 No-Limit Hold'em for $10,828; the following day she beat 448 players in Event #2 $225 No-Limit Hold'em for $18,348; and on the third consecutive day she beat 215 players in Event #3 No-Limit Shootout for $8,731.
"The last three tournaments have become a blur." Jordison told PokerNews.
Jordison was on such a roll that she even tried to make it four in a row. She ran out of steam (quite literally) in the Limit Omaha event, but her exit was greeted with a standing ovation from every person in the poker room.
"It was a moment I will never forget." Jordison told PokerNews.
Prior to her one, two, three, Jordison had earned close to $50,000 in live tournament earnings, but had never once passed the finishing line first. She has been playing poker for a decade, and primarily plays PLO8 cash games. She will use part of her newly earned $37,907 to help send both of her children to college.
Ludovic Geilich Wins the GPS Main Event in Newcastle
Ever since Ludovic Geilich found his way through a field of 763 entrants, to capture the $171,790 first prize in the United Kingdom and Ireland Poker Tour (UKIPT) Season 4 Main Event in Marbella, the Scotsman has been absolute mustard.
He finished that year with a fourth place finish at the European Poker Tour (EPT) Main Event in London, and has pocketed six figure annual hauls each year since.
His latest score comes in the £440 Genting Poker Series (GPS) Main Event in Newcastle. He beat Darren Grosvenor, in heads-up action, to take the first prize of $40,911. It's his third best score of the year after decent showings in side events at EPT Deauville and EPT Malta. He now has $859,574 in live tournament earnings, and I wouldn't bet against him reaching the million mark during the summer.
Final Table Standings
1st. Ludovic Geilich – £27,500
2nd. Darren Grosvenor – £18,250
3rd. Nick Ramsay – £12,000
4th. Gary Wilson – £7,250
5th. Craig Grainger – £5,400
6th. Andrew Leathern – £4,400
7th. Norman Little – £3,400
8th. Michael Richardson – £2,750
9th. Karl Guiness – £2,000