Sihanoukville, Cambodia, March 17, 2015 – APT Asian Poker Series Cambodia 2015 is now set to take place from October 20th to 28th 2015 at the Queenco Hotel & Casino in Sihanoukville, Cambodia.
Making the announcement this weekend at the launch party of the new [email protected], Queenco Hotel and Casino's General Manager Aharon Aagini said that he was delighted that a vacant spot in the very congested 2015 APT calendar had been secured.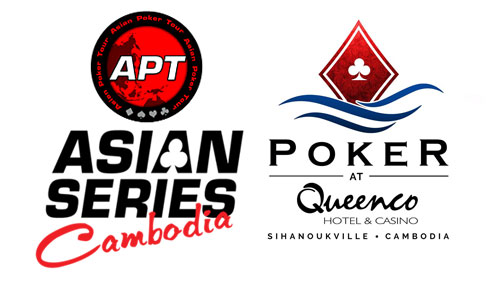 "Our first APT event last year was a success and we were very disappointed that the planned May event needed to be cancelled through reasons beyond our control. I am delighted therefore that APT Cambodia will now be here in October," said Aagini.
Mr. AJ Brock, the owner and operator of [email protected] plans to continue the relationship with the Asian Poker Tour and to bringing a world-class poker experience back to Cambodia. He remarked, "I was introduced to the Cambodia poker scene a little over a year ago. In that year, I was very pleased to see APT having such success. I am very excited to take over [email protected] and hope to see poker in the region flourish. I was very disappointed when we had to cancel the May APT event, but now October can't come soon enough. Sihanoukville is a perfect destination for an APT event and this year will be better than ever!"
"The fact of the matter is that we should not have been forced to cancel the May Event in the first place! We have now selected October 20 to 28 as it falls between all other regional poker activities. I just hope that no one changes their published schedules thus affecting APT Cambodia 2015 once again," concluded APT CEO Jeff Mann.
Further details regarding the upcoming APT Asian Poker Series Cambodia 2015 will be available soon on the APT website.
For more information, you may email [email protected].
Comments