Dusk till Dawn in Nottingham have introduced a live shot clock in their midweek competitions at the club, and so far the feedback has been positive from the punters.
Time wasters are not welcome in Dusk till Dawn (DTD).
The winner of the British Poker Award (BPA) Best Live Card Room has made the experience even better after introducing a live shot clock for their midweek competitions.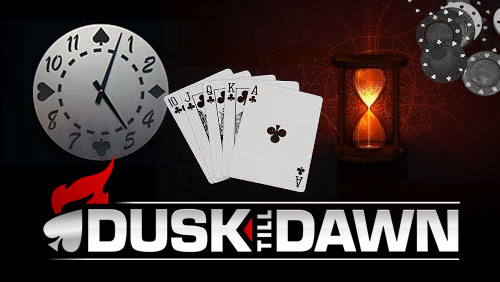 "We're always listening to customer feedback and always act on it where possible, and it's with great excitement I can confirm we will be using our Turbo 'Shot Clock' system in our weeknight comps at the club." Said Club Director Simon Trumper.
Have they invested in a wealth of technology?
How will it be managed?
It's actually a lot simpler than you would think.
Implementation, and governance, of the rule will be handed to the dealer, which in my opinion is by far the best approach. When the action falls to the player, the dealer will monitor the flow to ensure that no more than 20-seconds is allowed before a decision is made. They monitor time taken by using one of the many clocks that are positioned around the club.
Failure to act within the allotted timeframe will result in the player's hand being declared dead. Each player will have a single one-minute 'timebank' card that they can use when they deem fit.
"This means you will get more play in the tournament at 'the business' end and hopefully speed things up for those of you who have work the following day." Said Trumper.
Wot No World Poker Tour Shot Clock?
A year has passed since the World Poker Tour (WPT) commentator, Mike Sexton, told the world that: 'the shot clocks are coming.' The Poker Hall of Famer was getting excited after a player survey, conducted at the Commerce Casino, revealed that 80% of those polled were in favor of the WPT introducing a shot clock at their festivals.
During my recent interview with the WPT Head Honcho, Adam Pliska, I asked him when we were going to see 'The Hublot Shot Clock,' and he told me that he was hoping to 'at least try it' before the season ends.
The sands of time are running out.
No introduction has yet been announced.
Television coverage of the PokerStars Shark Cage showed how much excitement the shot clock can introduce into the play. Who can forget that incredible hand between "Miss Finland" Sara Chafak and the World Series of Poker (WSOP) bracelet winner, Ronnie Bardah.
If it's not already penciled in for discussion at this summers Tournament Directors Association (TDA) then let's hope the experiments carried out at PokerStars and DTD see it stenciled in soon.
Comments