A World Series of Poker Circuit event at the Horseshoe Baltimore has smashed the record for a live tournament, in Maryland, after Jesse Mills defeated 2,403 entrants on his way to victory.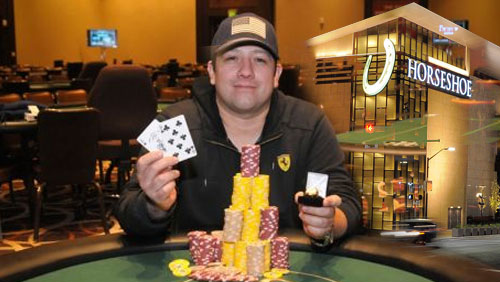 If you listen hard enough, your customers will tell you what they want.
The World Series of Poker Circuit (WSOPC) is proving to be a very efficient conduit in that regard. It's been a record-breaking year for the series, and it keeps getting better.
The Season 11 stop at the Horseshoe Baltimore in Maryland has smashed  the record for a land-based live poker tournament, in the state, and they have only played through two of the 12 gold ring events that are going to be on show.
2,403 players ponied up the $365 buy-in, and in some cases even more, in Event #2 $365 No-Limit Hold'em (NLHE) Re-Entry. The players eagerness to fire off consecutive bullets created a total prize pool of $720,900 and $106,305 of that now rests in the piggy bank of Jesse Mills.
Talking to the WSOP, after the event, Mills said that his key to success was avoiding tougher players, and folding big hands when he wasn't sure how to proceed.
His strategy worked. But there had to come a point when he would have to face a tough opponent. That time came when he was heads-up against Greg Himmelbrand. He was by far the most experienced member of the final table, with several six-figure scores on his Hendon Mob highlight reel, but that experience wasn't enough to stop Mills from taking home the gold.
It's the second huge field of the season. In January, the WSOPC at Choctaw attracted 4,053 entrants in an equivalent event. That remains an al-time record for the WSOPC, showing that people want these low buy-in events.
WSOPC Horseshoe Baltimore Final Table Results
1st. Jesse Mills – $106,305
2nd. Greg Himmelbrand – $66,900
3rd. Bryan Riley – $50,167
4th. Michael Stiller – $38,633
5th. Aristides Santana – $30,011
6th. Brent Philbin – $23,429
7th. James Peters – $18,455
8th. Andy Spears – $14,706
8th. Kyle Carter – $11,916