Jim Ryan is a familiar face in the iGaming industry and also an influencer, having worked in the marketplace since 2001 in C-level positions. Ryan is currently serving as the CEO of Pala Interactive, a gaming technology provider with a focus on US regulated real money iGaming. Pala Interactive is the first tribal entity to receive a real money iGaming licence in the state of New Jersey and the company has big plans for California's market once it opens up.
I had the opportunity to sit down with Ryan, one of my favorite executives in the iGaming space, to chat about Pala Interactive's performance in New Jersey, his view on bad actor and tainted asset issues, how PokerStars' imminent New Jersey license will impact his business, the state of regulation in California and the his opinion on the threat of Sheldon Adelson and RAWA.
Becky Liggero: Let's start with New Jersey. A lot of people are disappointed in the performance of the New Jersey market so far- from your perspective, how are things going with Pala Interactive since you've entered the market in New Jersey?
Jim Ryan: From our perspective it's been all good. But we approached New Jersey, I think, with a very different viewpoint than others. If you take a look at the facts, we entered the market a year late. We entered the market without a known brand in the state of New Jersey, we've also entered that market without a database. In one respect, one could look at this as us being disadvantaged. In another respect, we actually see this as a great opportunity for us.
We went into New Jersey with three very specific objectives:
First, being a new enterprise, we wanted to expose ourselves to a regulatory process. So having the company, its management team and its product go through that process, being vetted, positioning us not only for New Jersey but for other regulated US markets as they open up, fit perfectly with our strategy, which by the way, is to operate in US regulated, real money gaming environments.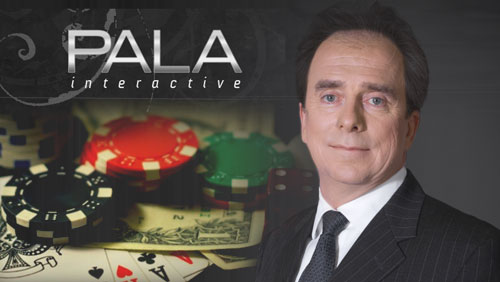 The second reason why we thought New Jersey was well placed for us was that we had built a brand new technology platform, probably the only platform out there that was built specifically to operate in the US regulated market. Actually we built much of the platform with the New Jersey regulations in hand. But it's one thing to run that platform in a lab and it's a whole other thing to expose it to the marketplace. And we've done that for the last three months and learned an awful lot of things about the good, the bad and the ugly with our platform and we're actually this week about to do our first major release which is going to optimize the product significantly, from the player journey perspective, from a conversion perspective. We're adding 28 new games to the platform this week which will take us well above 120 games, I think one of the largest in the marketplace.
And the third reason we launched in New Jersey is we've got a new management team, again operating in a lab based environment – you've got to get out there, you've got to make your mistakes- we're going to try and we're going to be more tactical about it in that we're not going to try and carpet bomb New Jersey because we don't have the brand nor the data base, we'll try things and we'll fail fast, if something works we'll invest more, if something doesn't work, we'll stop doing it. If we do those things well, we might just capture a meaningful share of the New Jersey marketplace, but that's going to take some time and we went into this with a three to five year horizon- not with respect to New Jersey, but with respect to the US regulated marketplace- thinking to get a meaningful market in the United States, it would take three to five years.
We're in New Jersey for the long term and so far we're very pleased with the results.
BL: Excellent, excellent. You mention the regulatory process. The DGE has a reputation for being very fair and thorough and I know they have investigations going on with PokerStars and even some things you were involved in before- I'm wondering where do you think the line should be drawn when it comes to bad actors, tainted assets, and this type of thing- how strict should the be, in your opinion?
JR: So I think there are two issues and it's interesting, these two issues are actually playing out in the state of California right now- there's a bad actor issue and there's a tainted asset issue and they are mutually exclusive.
My viewpoint is whether it's in legislation or regulation, you're going to have to deal with it. A regulator will take a look at your past acts, it will take a look at the software platform that you're using, so I'm very satisfied to have a gaming regulator look at it. Equally so, we're equally satisfied to have it dealt with at a legislative process. Now perhaps I'm getting into the California issue a little more than I ought to. But it's worked out well in New Jersey, it was left for the regulator to deal with it, it wasn't specifically dealt with in the legislation. I think the process has been fair, I see no reason why that couldn't play out in other state based markets in the United States. So I would say follow the New Jersey example- let's open up the marketplace, is the real issue. Let's not get ourselves twisted in knots as to trying to legislate an individual through a piece of legislation- that's the regulator's job.
BL: Ok. New Jersey, of course, is one of PokerStars' big targets- they want to become regulated there and launch there- so if PokerStars is able to operate in New Jersey, what impact will this have on your earnings expectations, and the business you have set up, especially your poker business, in New Jersey?
JR: So right now we've launched with our casino product, our plan is to launch with poker, our plan was to with launch poker in Q1 of this year and by and large it's ready to go. We put that on hold. We put that on hold because we do expect PokerStars to enter the market, not that we would have grabbed a significant share because there are two very credible poker networks operating in the states of New Jersey at this point in time, liquidity is obviously a challenge, we've seen one poker network already exit the marketplace.
Our objectives with respect to our online poker product are different than our casino product. The casino product, we actually think we can take a meaningful share of that marketplace. We think our product can be as good as anyone else's and as we build the brand and our database, I think we'll do just fine. The poker challenge is a bit deeper, especially on the back of a PokerStars entry. In that particular case, what we're looking to do is optimize our product. We're going to go out there, do the best we can, but build a great poker product with the viewpoint that in a market like California where we do have a brand, where we do have a database, it's a far different set of circumstances and we think we can be a meaningful participant in the state of California. So it is about building for the future with the poker launch in New Jersey.
BL: So if we talk about California then- we came really close and now we have some more challenges, a lot of different stakeholders going through different bills, where do you see California right now? We know the chances of something happening this year really aren't that great, but what do you see since you're right in the middle of it all?
JR: It's quite interesting because, I'm going to take you back to the last legislative session and I had the extreme opportunity of participating with the Pala Band of Mission Indians and thirteen other of the state's largest tribes and when we started the process, I guess it was close to two years ago, the tribes had very different perspectives and objectives. Over the course of about a year and a bit, we actually came up with one bill. So we actually ended up with thirteen tribes agreeing to a consolidated poker bill and we came very, very close in the last legislative session to making something happen. Frankly we just ran out of time. It wasn't like there was some insurmountable issue and the key issue that needed to be dealt with in the last legislative session was in fact the participation of racetracks.
I came into this legislative session being much more optimistic in that we ended the last one with one issue to deal with, actually we had a couple of issues to deal with, the status of the racetracks and the Department of Justice came in and said, we're very concerned with the speed at which our bill contemplated the market opening up and they needed more time to get ready. Amaya's acquisition of PokerStars brought a third issue into this legislative session. That issue has actually been more divisive than I would have initially thought. It's been argued there are three or four different viewpoints at this time.
As I sit here today, I'm nowhere near as optimistic as I was at the end of the last legislative session. We've got some work to do. I see the three issues being racetracks, bad actors and tainted assets. The same way we knocked off every issue we started with in the previous legislative session, I have to believe that we'll do the same here. I actually do believe the tribal community wants to see poker legislated in the state of California, so that's the good news. Everybody's got a solid foundation upon which to build. We've got to reconcile the differences which I think are workable, my fear is time.
What's different about this legislative session than the last legislative session is what's happening at a federal level and Mr. Adelson's efforts to amend the Wire Act and actually as we sit here today, I think we've got the most significant risk we've ever had to not seeing poker legalized in the United States and perhaps put on the shelf for many, many years to come.
So this is a personal perspective as opposed to anything else, I'm sitting back and I'm kind of frustrated that we wouldn't be coming together sooner as opposed to later to actually get poker in the state of California in 2015. Again, no basis for this comment, but I have to believe if you make it happen in the state of California, there's going to be a trickle-on effect and we'll see it in multiple states after that. It will be very difficult for the Federal Government to move after California does it, but we sit here today with the Republican controlled Senate and House with a very sophisticated organization that wants to make online gaming illegal in the United States of America in a very well financed effort.
It doesn't feel real good and so we need to be mindful of it as we move forward.
BL: I was going to ask you about RAWA, Sheldon Adelson, and I know you're thoughts on it, you do think it's a big threat. So you're saying if we can get California pushed forward that will help our cause here, but if we're not able to make anything happen in that state, what can the online gambling industry do to unite as one, because we have some people that are really anti-PokerStars coming in the market, saying they are criminals and things like that, others that are saying they should be allowed in- we're divided on these kinds of issues, which make people like Sheldon Adelson stronger, I would think. So what else can the industry do, from your perspective, to make sure [RAWA] isn't passed?
JR: What's interesting is, and I'm not going to focus on the industry, I'm going to focus on the state of California, I think that we all need to come together and I think Mr. Adelson's position has vastly improved as opposed to where it was last August when we were aligned.
So what can we do to improve the position.
I think what we've got to do, is we've got to rely on the regulators to do the job and to vet out individuals and assets.  When you take thirteen- quite often people in the state of California think of them as thirteen tribes, they are not thirteen tribes, they're thirteen natural competitors we're trying to put- and it isn't just thirteen, there's card rooms that need to be considered, there's racetracks, but if you take those natural competitors and put them in one room, it's near impossible to agree on all principal issues and as we see the earth has moved underneath our feet in terms of the corporate environment and the acquisition by Amaya.
Let the regulators do the job.
Let's get legislation passed that actually opens up the poker market, preserves the tribes and the card rooms' rights to operating the game of poker online and more importantly gets the consumer the ability to play a game of regulated online poker and not push them into the black market or markets where they may not have the best possible experience.
And I have to say this and I'm worried you're not going to ask the question so I'm just going to take advantage right now.  As we think about the poker industry, or anybody else who is listening to this message, because I'm confused about the objective of amending the Wire Act.
As I sit here having been in this industry since 2001 and having seen the good, the bad and the ugly of the industry and having had my own brush with a bad actor, to me, I take a look at Mr. Adelson's position and he has worthy objectives.
His objectives are to make sure we keep the kids off the product or don't give them access, to make sure those with addictive tendencies don't expose themselves and to cease the funding of terrorist activities. I'll reserve comment on the last one for the moment.  But nonetheless, all worthy objectives.
But the process and the way he in which he is approaching this is confusing to me and it's confusing to many of my colleagues in the sector: Let's not regulate it, let's actually make it illegal.  Which it's been, I guess, for the past 5, 6, 7 years.  And so the consumer who wants to enjoy this activity is going to have to go into the black market to play where there's no controls over underage gambling, there's no KYC to be required, there's no geo-location requirement, there's no controls over the amount of money you put into the system and there's no control over the ways and means, so if one wants to do a Western Union transfer of cash, they can do that, and then they can transfer those funds to god knows who ever to do whatever activities.
It's backwards.  We're steering the water boat from the motor skis, or the water boat from the water skis- you're going to have to edit that out for me, it was a great line [laughs].
It just doesn't make any sense to me, as opposed to taking a look at what's been done in Nevada, Delaware and New Jersey.  But let's take New Jersey as a case in point.  There's not been one reported case of underage gambling, there are sophisticated controls in place, in that state, to make sure operators know who their customers are.  There is a self-exclusion list that the Division of Gaming Enforcement requires all operators to check anybody who registers on their site to make sure those individuals who have either been excluded by an operator or self-excluded can't play on anybody's site.  And there are tools where if I've got addictive tendencies and I want to eliminate my ability to play I can do that online.  And frankly, we know everything about the consumer's activity, as opposed to a land based operator that does not have that depth of data.
I recently saw an interview with Mr. Adelson where he made his case for a child or an underage individual getting online and playing the product.  And the example he used was a parent registering an account, depositing online, and simply handing the device over to the child to play.  Could that happen? Without question.  It could also happen with a loaded gun, but I don't see him advocating to make handguns illegal in the United States.  That would probably be his money better spent in that particular direction as opposed to online gaming.
So having been in this sector as long as I have, having lived through the ups and downs and challenges, do not push this into the unregulated market.  There are unscrupulous individuals who will take advantage of it.  It's time we regulated this, we need to get it in California in 2015, we need to move beyond the hysteria that perhaps exists in a generation that does not understand the internet.
Anyways, there's my pitch.
If people can get behind that and communicate the message, the poker playing community can get to their elected officials, the online gaming marketplace, you know there are a group of land based and online operators who are doing a great job in Washington lobbying, that's happening,  Let's hope we can get beyond this.
BL: Yes, and let's go California! Fingers crossed.  Jim, I really appreciate your time today, I wish you the best of luck with Pala Interactive and thank you very much. 
JR: Alright Becky, thank you, we'll see you at GiGse.